11. February 2019 | at Eawag in Dübendorf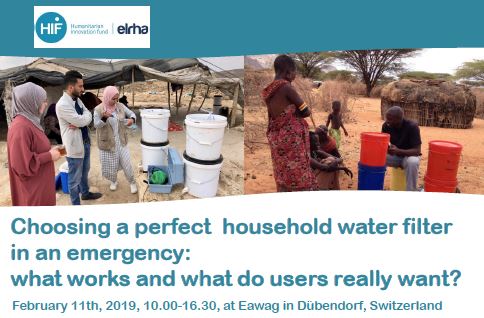 Household water treatment and safe storage (HWTS) devices are an essential element within humanitarian emergencies to improve quality of drinking water and achieve health impact. However, evidence that HWTS products are used correctly and consistently in emergency settings is limited. To increase the ability of Humanitarian Agencies to make informed choices about the procurement and distribution of household water filters in emergencies, and motivate producers to improve design, Humanitarian Innovation Fund (HIF) initiated this project.
In total 420 household filters of five types in three emergency contexts during the period of 9 month have been evaluated. The focus of the study was
on the technical performance of the filters regarding use, flowrate as well as bacterial removal. We have differentiated between filter integrity, post-contamination and microbial re-growth to obtain more in-depth understanding of the challenges and limitations of different products.
ease of use, operation and maintenance, functionality, size and aesthetics from the point of view of the users. The users and implementers were involved in different ways including structured surveys and observations, as well as open end discussions and a co-design workshop.
optimization potential for different products to better suit needs of users and implementers.
This workshop will focus on the following:
The presentation of the results from field studies in Palestine and Kenya
The prioritization of filter features based on the results and personal experiences of the participants
Create space for discussion on the implications of the results for implementers and manufacturers
And finally, contribute to design a better filter!
More Information HERE.
For registration, contact maryna.peter@fhnw.ch
The Global Program Water (Swiss Agency for Development and Cooperation) is looking for experts in river restoration / renaturation available to present/transfer Swiss experience on the topic into the municipal administration of Teheran.
For more information please contact Mrs. Eileen Hofstetter in case of interest or any further reference.
Postgraduate studies at ETH Zurich, Institute of Environmental Engineering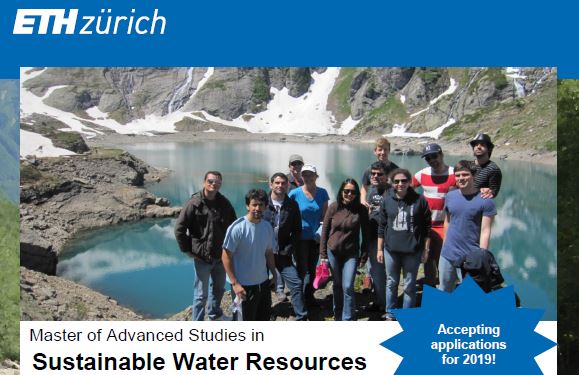 Applications are now being accepted for the Master of Advanced Studies (MAS) in Sustainable Water Resources, a one year postgraduate program at the Swiss Federal Institute of Technology (ETH) Zurich, Switzerland. The program begins in September 2019 and is taught in English.
The MAS is designed to advance the education of water professionals on the importance of water availability and water scarcity in a changing world, at the same time preparing them to face the challenges of the future.
For further information, see the flyer , visit the MAS website, check out the MAS brochure, or write to Darcy Molnar (MAS coordinator).
If you are interested in joining this unique program at ETH Zurich, please start the application process now as spaces are limited.
New Entrepreneurial Committee for Responsible Business
Launched on 26 November 2018, The "Economic Committee for Responsible Business" already has over 100 supporters from the Swiss private sector – and is open to new members.
The Economic Committee for Responsible Business stands for the correct treatment of people and the environment and is committed to the Responsible Business Initiative. The over 100 supporters from the Swiss private sector are convinced that social, environmental and economic responsibility are indispensable for sustainable growth and the excellent reputation of Switzerland as a business location. "By anchoring the legal foundations of the Responsible Business Initiative and holding guilty corporations to account, we will be creating a level playing field for everyone," said Dietrich Pestalozzi, Co-President of the Committee, at the launching event in Zurich. Among the supporters of the committee are leaders of numerous internationally active Swiss companies from many different sectors. They all recognize: Compliance with human rights and international environmental standards serves everyone and helps to strengthen the Swiss economy. Whether as a supplier or in the business-to-consumer business – minimum standards in the area of human rights and environmental compatibility are increasingly becoming the norm. Go here to learn more about the various ways in which the committee can be supported.
         ——— *———–*———-*———–*———–*———–*———–*————*

Neues «Wirtschaftskomitee für verantwortungsvolle Unternehmen»
Mit einem öffentlichen Anlass im Landesmuseum Zürich wurde am 26. November 2018 das «Wirtschaftskomitee für verantwortungsvolle Unternehmen» offiziell lanciert. Das Komitee zählt bereits über 100 Unterstützerinnen und Unterstützer aus der Schweizer Privatwirtschaft – und ist offen für neue Mitglieder.
Das Wirtschaftskomitee für verantwortungsvolle Unternehmen steht für einen korrekten Umgang mit Mensch und Umwelt. Mit bereits über 100 Unterstützerinnen und Unterstützer aus der Schweizer Privatwirtschaft setzt es sich für die Konzernverantwortungsinitiative ein. Für die selbst unternehmerisch tätigen Persönlichkeiten im Komitee ist klar: Soziale, umweltgerechte und wirtschaftliche Verantwortung sind unabdingbar für ein nachhaltiges Wachstum und den ausgezeichneten Ruf des Wirtschaftsstandortes Schweiz. «Indem die Konzernverantwortungsinitiative rechtliche Grundlagen verankert, um fehlbare Konzerne zur Rechenschaft zu ziehen, werden gleich lange Spiesse für alle geschaffen», sagte Dietrich Pestalozzi, Co-Präsident des Komitees, anlässlich der Gründungsversammlung in Zürich. Zu den Unterstützerinnen und Unterstützern gehören Führungspersönlichkeiten zahlreicher international tätiger Schweizer Firmen aus den verschiedensten Sektoren. Sie alle haben erkannt: Die Einhaltung der Menschenrechte und internationalen Umweltstandards dient allen und stärkt auch die Schweizer Wirtschaft. Denn ob als Zulieferfirma oder im «Business-to-consumer»-Geschäft – Mindeststandards im Bereich Menschenrechte und Umweltverträglichkeit werden immer mehr zur Norm. Informieren Sie sich hier über die verschiedenen Möglichkeiten, das Komitee zu unterstützen.
SDC and SECO sponsor initiatives run by committed young people!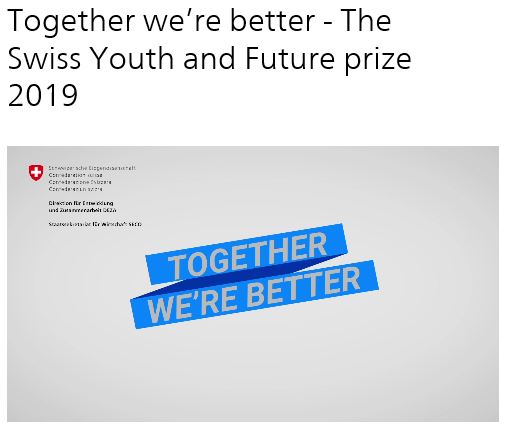 Are you under 35? Are you actively involved in sustainable development in an international development cooperation country?SDC and SECO are looking for innovative projects, initiatives and ideas for projects run by young Swiss people that can help advance sustainable development and fight poverty in developing and transition countries.

All projects will be presented to a specialised jury for assessment. The five best projects will be awarded prizes on the basis of the following criteria:
Think globally, act locally: CHF 10,000
Your project is based on global thinking while having an impact at the local level that promotes existing structures in our project countries.Start-up or project idea: CHF 8,000
An active start-up has emerged from your project
Youth project: CHF 6,000
You are not yet 20 and have an innovative project? This is a prize for younger participants.
Community prize: CHF 4,000
Your project has won the hearts of the community if it wins the online vote.
Surprise prize:  Amount dependent on the project
Your project does not fit into any of the above categories, but is so fascinating that it nevertheless merits our support! Or your project is not yet complete but your idea is so interesting that it must be followed up in any case.
The prizes will be awarded at the Annual Swiss Development Cooperation Conference on 21 June 2019 in the Forum Fribourg, organized by SDC and SECO. All participants are invited to present their projects in the exhibition area of the conference centre.
Deadline for submissions: 31 March 2019
Further Links:
Human Rights Based Solutions for Access to Water and Sanitation, Geneva, 7-8th February 2019, WIPO Conference Centre
Introduction
Solutions for access to water and sanitation for the people that have been left behind is an issue of human rights, whatever the cause, be it poverty, water scarcity, climate change, conflict situations or cultural and gender barriers. Solutions need to be innovative, economical and easy to implement.  Overarching these constraints there also needs to be a supportive political climate and strengthened governance to overcome corruption, inertia, and budgetary constraints.  The nexus of these three aspects of Human Rights-Based Water Governance, Innovative Technology and Economic Feasibility provides a topic for this Summit, and a platform to bring together ideas and people in a constructive environment.  The clear outcome from the two days is to find tangible projects to pilot, with funding attached to them.
"Leaving No One Behind"
Sustainable Development Goal 6 (SDG 6) on water to "Ensure availability and sustainable management of water and sanitation for all" highlights the overarching principle of "Leaving No One Behind". In committing to the realisation of the 2030 Agenda for Sustainable Development, Member States recognised that the dignity of the individual is fundamental, and that the Agenda's Goals and targets should be met for all nations and people and for all segments of society.  Furthermore, they endeavour to reach first those who are furthest behind.
This 1st World Water Summit on Leaving No One Behind aims to fill a need that is not yet met by other water conferences and provides a kick-off event as part of the 2019 UN-Water campaign on this theme. It differentiates itself from other water conferences by the focus on human rights to water and sanitation, and the focus on finding and implementing workable solutions with support from funders.  The event is envisaged to be held annually for the next 11 years, for the duration of the SDG Agenda, and form part of the wider campaign to achieve SDG 6.  The outcomes from these events will be interlinked with other global water events, such as the High-Level Panel on Water (HLPW), the World Water Forum (WWF) and World Water Week (WWW), and form part of the UN-Water annual campaigns.
Access the Summit Brochure here.
Overview of the Summit
The Summit will be the first event in 2019 to find ground-breaking technical and governance solutions for the topic of "Leaving No One Behind", bringing governance leaders and funding agencies together. The first day highlights innovative research through a competitive call for abstracts through our combined technical networks, culminating in a prestigious Awards Dinner. The following day provides a more dynamic platform for bringing real projects and funders together in an engaging manner.  Importantly, the outcome will set off a stream of chosen projects that can help to solve some of the challenges for the people that are being left behind in the least developed countries. These projects and tangible outcomes will be presented as workable solutions at forthcoming high-level events, such as the HLPW, WWF and WWW. There is an opportunity to run this Summit annually, teaming the "Leaving No One Behind" topic with the annual UN-Water theme, such as Climate Change in 2020.
Structure of the Summit
It is proposed to structure a two-day event, as follows:
Day 1:
Flagship Projects: Plenary Sessions to showcase the most promising ideas from the call for scientific and policy research abstracts on the topic of Human Rights Solutions to Water and Sanitation. These should highlight accessible (achievable, cost-effective) and innovative solutions that are relevant for people from least developed countries and situations that are aggravated by situations of poverty, water scarcity, location, climate change, conflict situations or cultural and gender barriers. A limited number of selected experts will present scientific and policy-enabling ideas around the topic of "Leaving no one behind". Potentially half of which are technology focussed, and half are policy related (including HRWS).
Awards Dinner "Leave No One Behind Innovation" Award for the most promising idea presented during the day, including funding for the winner to start a feasibility study. Winning idea can be either technology or policy driven, and it must aim to help solve the issue of how to ensure access to water and sanitation for people in marginalised situations. Votes from judges during the day.
Day 2:
Exploratory Projects: Panel presentations and discussions whereby a mix of experts are given the opportunity to pitch their ideas to a wide range of donors and other interested organisations that wish to support the topic of "Leaving No One Behind". These six sessions will each include six presenters (strictly 15 slides at 20 seconds each, total 5 minutes each, plus question time) providing an opportunity for each person to promote their ideas to the room.
Each panel session will be sponsored by at least one major donor, that has committed to choosing and funding a pilot study for the best idea from each session. Progress from these pilot studies will be reported in time for presentation at WWW in August in Stockholm. Decision made by sponsors.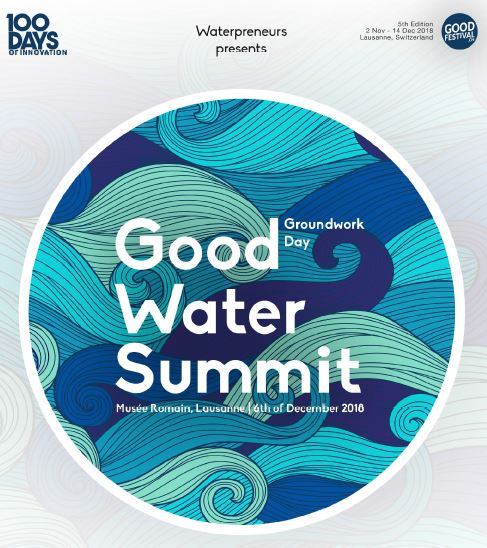 Take part in the Good Water Summit – Groundwork day on 6th December at the Musée Romain in Lausanne.
GoodFestival, Waterpreneurs, and Partners of the Swiss Water Entrepreneurship Pact, are organizing a workshop to co-create sustainable financial strategies for water, sanitation and hygiene solutions serving low-income customers.

Out of the box thinking will be needed to find innovative solutions to achieve SDG6 and ensure access to water and sanitation for all.
By joining this workshop, together with experts, you will:
Identify key concepts and create a common understanding of sustainable finance
Prototype generic deal sheets for 50k, 250k and 1m, which are fair and generative
Contribute to the design of the Good Water Summit 2019 event
This will be a unique opportunity to expand your community of people, that innovate, take risks and challenge the status quo to find solutions benefitting the people and the planet.
Registration: Please register here as seats are limited to 50 participants.
Invitation Flyer: Please access the flyer HERE.