In 2017, eco.ch, the Swiss Forum for Sustainable Development, is devoted to worldwide, fair and affordable access to water and sanitation. At the forum, the prix eco.ch will be awarded at the Basel Theater on 31 March. This year's prize is looking for Swiss ideas and solutions which help address the global water crisis. Submit your application for the prix eco.ch from now on and win up to CHF 20 000 to implement your idea! The deadline for application is February 12.
This prize is endowed by the Swiss Agency for Development and Cooperation, via Swiss Bluetec Bridge, and cewas. All the details are on eco.ch and the application on our partner's site cewas.org. You can also find further information herafter on the prix.eco.ch in German and French.
If you want to attend the prize award event on 31st March at 19:00 in Theater Basel, please register here.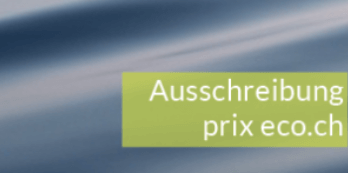 Prix.eco.ch 2017: Wasser für die Welt!
Am 31. März 2017 findet der eco.naturkongress und die Verleihung des prix eco.ch, dem Schweizer Nachhaltigkeitspreises statt, dies Jahr mit einem speziellen Fokus auf das Thema "Wasser".
Heute gilt die Schweiz noch als Wasserschloss Europas, doch die Zukunft sieht weniger rosig aus! Auch wir müssen unseren Beitrag zur Lösung der globalen Wasserprobleme leisten. Sei es bei uns in der Schweiz oder direkt in Entwicklungs- und Schwellenländern, wo immer noch grosse Teile der armen Bevölkerungsschichten keinen Zugang zu genügenden Wasser- und Abwasserlösungen haben.
Der prix eco.ch 2017 sucht nach innovativen Schweizer Ideen und Lösungen, welche direkt oder indirekt einen Beitrag zur Lösung der globalen Wasserproblematik leisten.
Bewerben Sie sich jetzt für den Schweizer Nachhaltigkeitspreis – prix eco.ch und gewinnen Sie bis zu 20'000 Franken für die Umsetzung Ihrer Idee.
Der prix eco.ch wird am 31. März 2017 im Theater Basel verliehen und wird unterstützt durch die Swiss Bluetec Bridge, der Direktion für Entwicklung und Zusammenarbeit (DEZA) und cewas.
Deadline für die Anmeldung ihrer Projektidee ist der 12. Februar 2017
Prix.eco.ch 2017: De l'eau pour la planète!
Le 31 mars sera remis le prix eco.ch, le prix suisse du développement durable, dans le cadre du congrès eco.ch. Ce forum du développement durable se déroule cette année entièrement sous le signe de l'accès universel équitable et abordable à l'eau potable et à des services d'assainissement.
Aujourd'hui la Suisse est toujours considérée comme le château d'eau de l'Europe. L'avenir s'annonce cependant moins rose. Nous avons donc avantage à chercher des solutions au problème global de l'eau, que ce soit en Suisse ou directement dans les pays émergents ou en développement. C'est dans ces pays que la plupart des personnes à faible revenu n'ont pas un accès suffisant à l'eau potable ou à une infrastructure sanitaire adéquate pour leur assurer une vie saine et un revenu suffisant.
Le prix eco.ch 2017 est à la recherche d'idées et de solutions suisses qui contribuent directement ou indirectement à la résolution de la problématique globale de l'eau.
Déposez dès maintenant votre candidature pour le prix suisse du développement durable prix eco.ch et remportez jusqu'à CHF 20'000 pour la réalisation de votre idée !
Le prix eco.ch sera remis le 31 mars 2017 au Théâtre de Bâle. Il est soutenu par le Swiss Bluetec Bridge, la Direction du développement et de la coopération suisse (DDC) et cewas.
Le délai pour l'inscription de votre projet est le 12 février 2017.