SANAKVO Foundation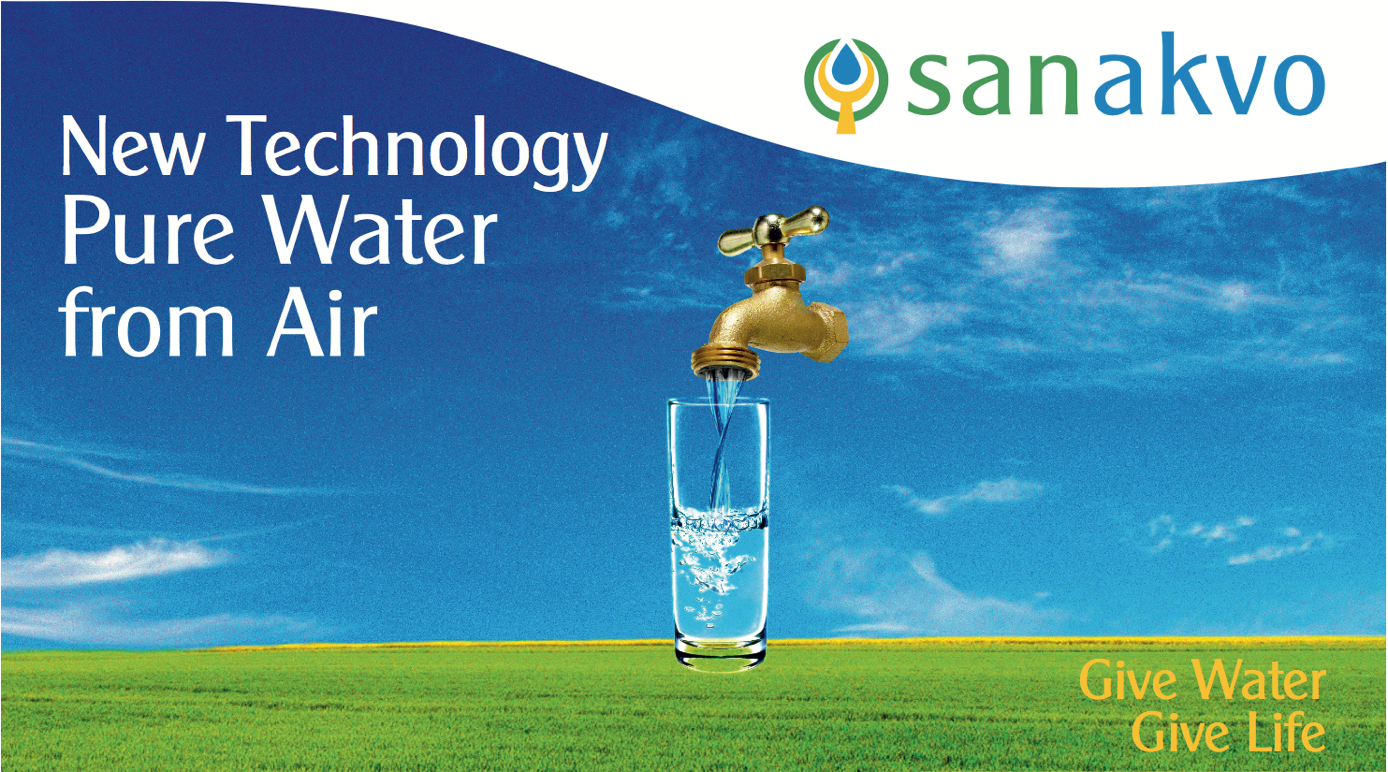 SANAKVO is a non-profit, humanitarian, globally acting Swiss foundation to make clean, drinking water available to the neediest people. It uses a new, revolutionary, low-cost and lowest energy system generating pure water from air. The new technology uses binding of atmospheric humidity into a hygroscopic liquid (glycerol) from which it is recovered in a form of pure liquid water by solar heat. The structures utilized are of low cost, easily produced on large scale and environment-friendly. Air humidity is an unlimited and omnipresent source of clean water! Thus, a new sustainable source of clean water everywhere on the planet can be implemented.
What we do
Sustainable drinking water and sanitation programs:
Support the development and implementation of an innovative, sustainable, low-tech and affordable water-from-air-technology
Educational activities:
Raising awareness towards the water scarcity problem by implication of the young generation. Coaching and support of their own projects. Specific courses for talented students.
Governance of water and other resources:
Networking and cooperation with local partners, experienced institutions and foundations in order to achieve a future sustainable long-term implementation according to the 'WASH'- Strategy.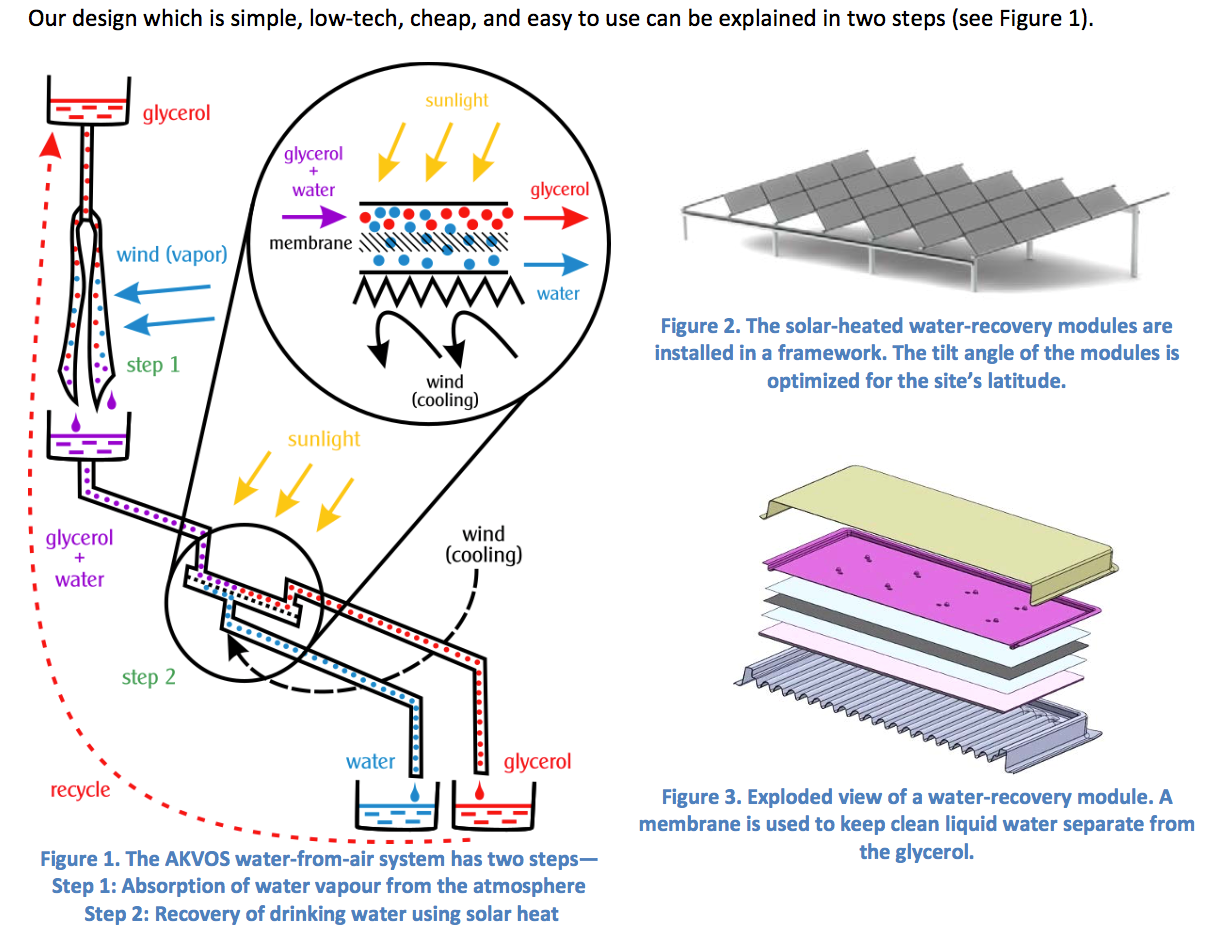 Schematic view of the new water-from-air technology
Thematic expertise
Integrated Water Resources Management

Bottom-up inclusive water resources management

Water Food Energy Nexus

Low-tech, low-energy water generation
Subsequent integration of new water-generation strategies in agricultural techniques for food supply

Water Policy and Governance

Implementation of new water technologies while fostering respect of ethical norms
Management of community-based water resources

Sustainable and effective water use

Innovative water sourcing linked to educational and hygiene improving projects
Disaster Risk Management: preventing health impairment by quick and easy clean drinking water supply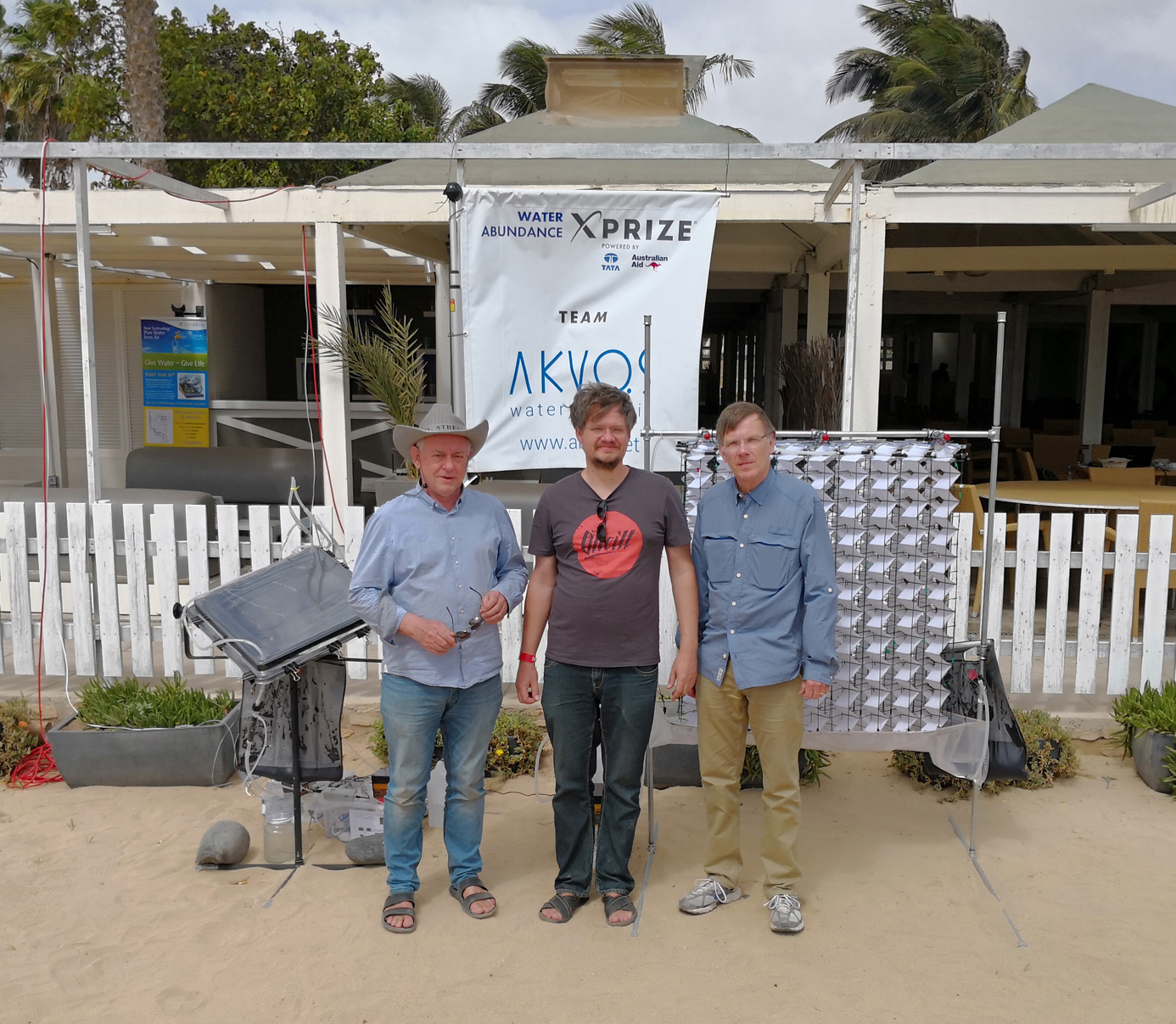 Water-from-Air Module (AKVOS-Project – Sal Cape Verde)
Projects
Participation in the Water Abundance XPRIZE competition with the water-from-air technical pilot project on the island Sal (Cape Verde) January 2018 (Team AKVOS)

This project allowed the proof on concept of the technology in an arid and representative setting. The water production process was tested successfully in a subtropical location. Important insights for simple optimizations of the device and important adaptations for the existing prediction model were gained.
Support of SANAKVO KIDS activities

Coaching of young people in fundraising activities and projects

In collaboration with the Sanakvo Foundation, the young movement 'Sanakvo kids' organized various fundraising activities like 'water concerts' in collaboration with professional musicians in 2017, a kids 'water-contest' and exhibition in collaboration with a big local shopping mall (Migros) in 2016, 'water challenge' in collaboration with an eMBA program (2016) and various different spontaneous activities.
Teaching and technical experiments on the new 'Water-from-Air-Technology' were conducted yearly at the international 'Talent-Akademie' in Lindau since 2013.
Scheduled project: Drinking water for Haitian school

After the successful technical project on the island of Sal in January 2018 the scale-up-project in collaboration with the Swiss foundation 'Oberwallis für Kinder der Welt' will be furthered. The goal of the project is to supply the new school 'Ecole mixte Arc-en-Ciel du Haut-Valais' in Montrouis Haiti (300 children) with clean drinking water with the low-cost Sanakvo-technology. The implementation of the 'Sanakvo technology' would allow the school to reach a more autonomous and sustainable performance. The high-quality and low-cost Sanakvo-water-from-air-technology is well adapted to Haiti, which faces water scarcity due to the destruction of existing water-pipelines and contamination of water reservoirs by natural disasters.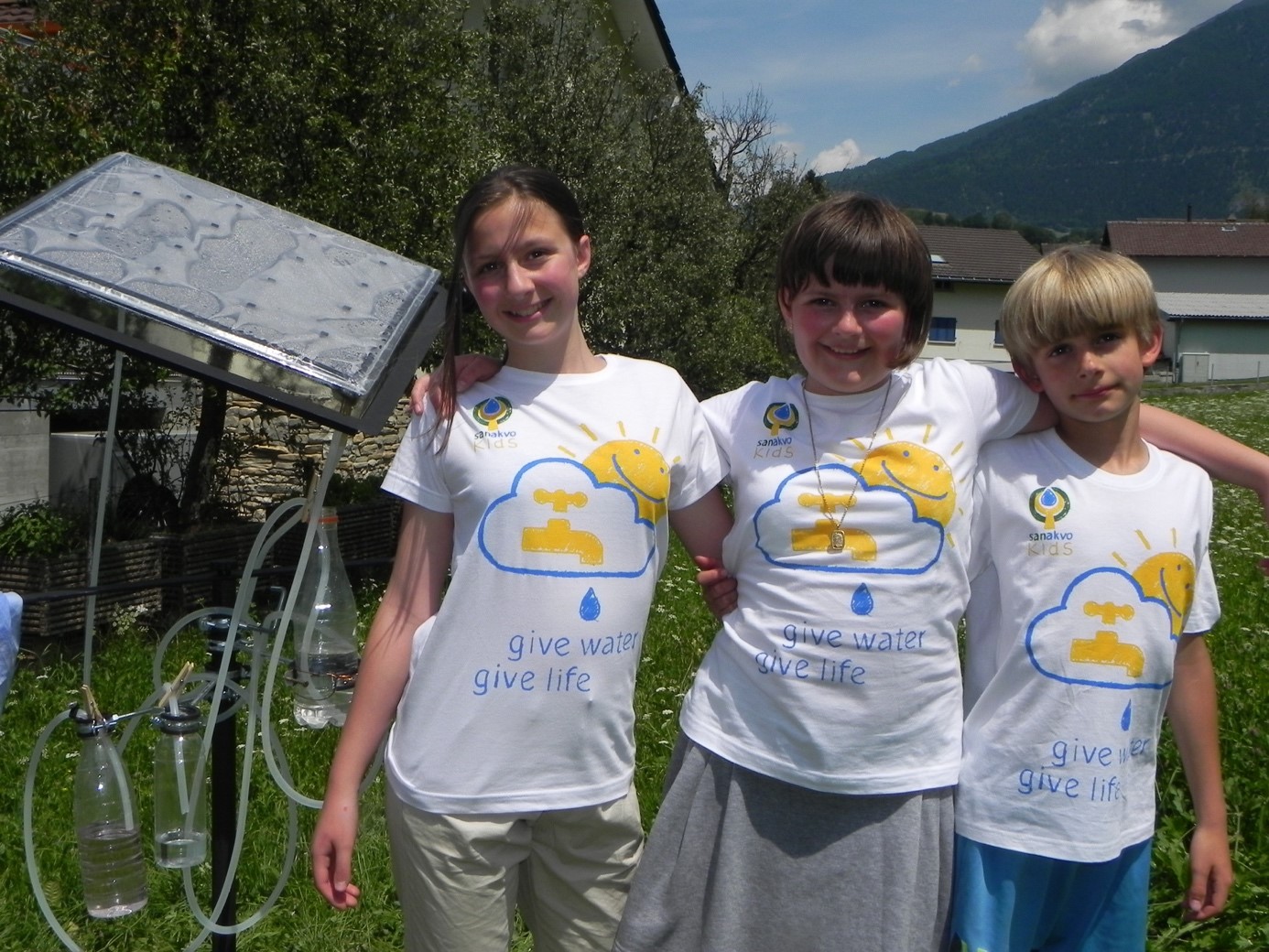 Sanakvo-Kids
Where we work: Cape Verde, Haiti, Switzerland, Germany, Czech Republic
External links
www.sanakvo.org ; http://www.sanakvo.org/they-wrote-about-sanakvo ; https://sanakvokids.weebly.com/der-sanakvo-kids—blog