SGS – Société Générale de Surveillance
SGS – Água e Sustentabilidade
Líder mundial em inspeção, verificação, testes e certificações, somos reconhecidos como referência global em qualidade e integridade. Para nós, sustentabilidade é fazer a gestão de um negócio lucrativo em longo prazo, levando em consideração todos os efeitos ambientais, sociais e econômicos, positivos e negativos causados à sociedade. Entre nossos serviços se destacam a gestão de água, pegada hídrica, gestão de eventos sustentáveis e certificações socioambientais no setor agrícola.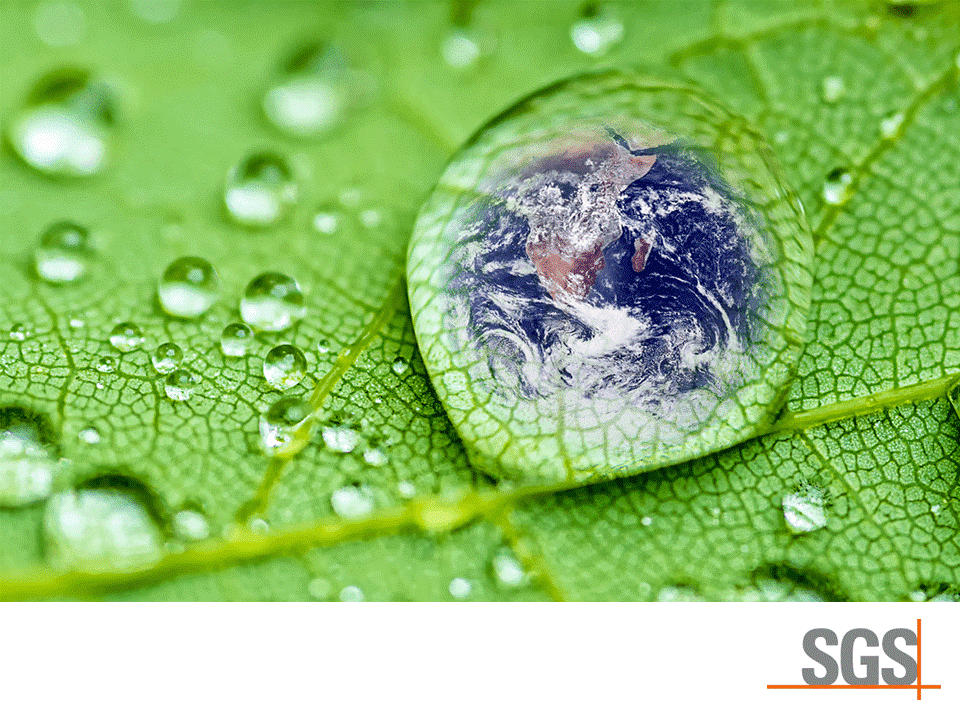 SGS – Water and Sustainability
SGS is the world's leading inspection, verification, testing and certification company. We are recognized as the global benchmark for quality and integrity. As well as delivering services that promote sustainable development, our values also show a commitment to corporate sustainability. For us, sustainability is about managing a long-term profitable business while taking into account all the positive and negative environmental, social and economic effects we have on society. Among our services we highlight the management of water, water footprint, management of sustainable events and socio-environmental certifications
Video
What we do
Trata-se de um cálculo feito para entender o próprio consumo de água e definir objetivos e metas para que esse consumo seja mais responsável.  Vale dizer que a Pegada Hídrica possui métodos de avaliação e cálculos que podem ser aplicados a todos os tipos de processos e cadeias produtivas, além de também ser aplicável a consumidores, países e organizações em geral.
Gestão dos recursos hídricos
O gerenciamento ambiental é vital em todos os serviços relacionados à gestão da água, para assegurar a conformidade com as normas regulatórias e as boas práticas globais. A SGS oferece uma ampla gama de serviços e gestão de dados que nos permitem monitorar e interpretar a situação de seus mananciais e sugerir soluções adequadas às suas necessidades.
Diagnóstico da eficiência Hídrica
Através do diagnóstico da eficiência hídrica é possível traçar estratégias para reduzir o uso excessivo de água, e remanejar os custos da empresa em seu gasto com água. A SGS é uma empresa especializada em Pegada Hídrica; Diagnóstico de Eficiência Hídrica e Gestão dos Recursos Hídricos.
Global Water Footprint Standard
Como calcular a água "verde, azul e cinza" para entender a localização geográfica e temporal de recursos hídricos para a indústria, agricultura e uso doméstico da água. Tudo isso incluindo um método para entender o ambiente sustentável, eficiência de recursos e o uso comum da água para todos.
This is an analysis of your water usage and your water management, helping to define objectives and goals to make a responsible consume. It's worth to say that the Water Footprint has evaluation methods that can be applied to any kind of processes and value chain, also its able to apply to consumers, countries and organizations.
Management of water resources
The environment management is vital in all kinds of services related to water management, to ensure conformity with all regulated norms and global good practices. SGS offer a broad range of services and data management that allow us to monitor and interpret the water source situation and sugest solutions to your needs.
Water efficiency diagnosys
Throught the water efficiency diagnosis it's possible to elaborate strategies to reduce the excessive use of water, and relocate the companies cost spent with water. SGS is a specialized company in Water Footprint, water efficiency diagnosis and water resources management.
Global Water Footprint Standard
How to calculate the green, blue and grey water footprint to understand the geographic and temporal allocation of water resources for industry, agriculture and domestic water supply.  Also, including a method to understand the sustainable environment, resources efficiency and common use of water.
Thematic expertise
Integrated Water Resources Management

Transboundary water management
Water Resources Mapping, Monitoring and Management
Water footprint
Analysis of historical water use
An on-site survey and assessment of water-using
Measures for sustainable water saving
Staff training and systems awareness program
Water Policy and Governance

Human right & Integrity
Water Law & Regulation
Management of water and sewage utilities
Industrial Water audits

Complete audit of your plant or site
Pilot-scale-testing
Design and engineering of cost-effective water treatment solutions
Construction management
Where we work
A SGS é líder mundial em inspeção, verificação, testes e certificação. Somos reconhecidos como referência mundial em qualidade e integridade. Com mais de 95.000 funcionários, operamos uma rede com mais de 2.400 escritórios e laboratórios no mundo todo com presença em mais de 140 países.
SGS is world leader in inspection, verification, tests and certification. We're known as a world reference in quality and integrity. With more than 95.000 workers, we operate in a network with 2.400 offices and laboratories in the whole world, with presence in more than 140 countries.
External Links
http://sgssustentabilidade.com.br/
http://www.sgs.com/en/news/2016/09/olam-international-receives-aws-certification-from-sgs
Video in Portugese