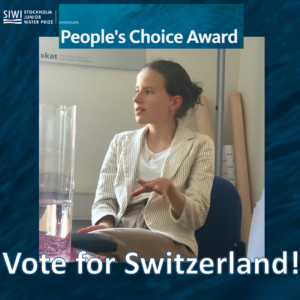 The Stockholm Junior Water Prize 2020 is carried out online! Despite the challenges that COVID-19 brought to all areas, 30 countries managed to pull out their national competitions and the selected projects are competing to win the international award.
Additionally to the prestigious prize, which will be designated as usual by the jury of international water experts, for the first time ever a finalist will be recognised with the
People´s Choice Award
, giving the audience the possibility to support their favourite projects. The interesting point about this award is that the winner could have the opportunity to visit the Stockholm World Water Week next year as a special guest, compensating for the cancelled event in 2020.
The Swiss finalist is Anna Sidonia Marugg, who conducted an excellent project researching on the presence of microplastics in alpine water systems. Support Anna Sidonia´s passion for science by voting for her amazing project!
You can see the Swiss entry
here
Sponsors
The Swiss Junior Water Prize can be carried out thanks to the sponsorship of the following organisations.