The Swiss Water Partnership (SWP) joined hands with several members to organize two workshops at the Econaturkongress. The first workshop focused on the imported water risk and the second discussed the south-north cooperation in the water sector. The outcomes on the two discussion topics are summarized hereinafter.
In addition, the SWP was present with a stand in the main hall of the congress. The Partnership was also mentioned several times in the plenary discussions. Amongst others, Michael Gerber, Switzerland's Special Envoy for Global Sustainable Development, mentioned the key role played by the Swiss Water Partnership in shaping, together with SDC, the initial proposal for the Sustainable Development Goal 6, which was approved with few modifications in New York in September 2015.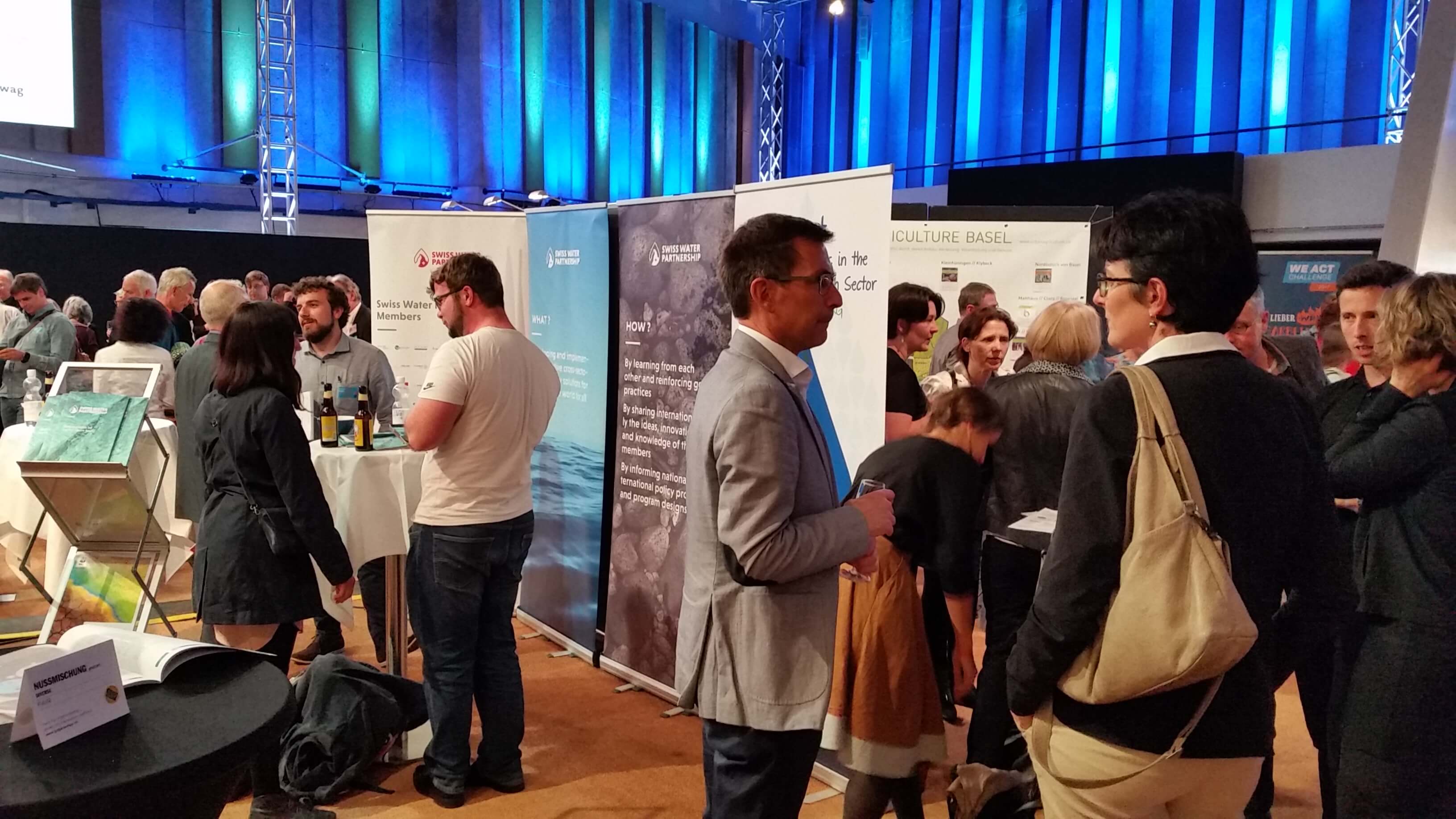 The World Economic Forum named water crisis as one of the top risks in the 21st century. In the 2030 Agenda for Sustainable Development, it gained a new urgency with a stand-alone water goal (Sustainable Development Goal 6) – for which Switzerland has advocated. Despite being blessed with rich water resources, Switzerland also has responsibilities as 82% of Switzerland's water footprint results from imported goods and services – including from water scarce regions. The role of water in global supply chains thus not only represents a risk for foreign countries that might already face water stress but also affects companies and investors based in Switzerland. The workshop 3 discussed different perspectives from various actors such as government agency, civil society organizations and the private sector aiming at tackling the issue of water risks deriving from imports from regions that are water scarce or have polluted water resources.
Workshop results
The workshop was introduced by five presentations. Jean-Baptiste Bayart from Quantis pointed out that the low costs for water resources and the complexity of investments in water resource management lead to low investment levels. Insufficient investments in water resource management can however have costly consequences for companies due to either physical risks, such as droughts; reputational risks; or changes in the regulatory framework requiring expensive adaptations. He concluded by reminding us that evaluating water risks allows to reveal the hidden costs of water; and that risks are located on the whole value chain beyond operational boundaries.
Monika Tobler from WWF Switzerland explicated that a significant amount of imported products in Switzerland stem from countries with high water risks such as China or India. Delivery shortages related to water risks could strongly impact Switzerland's economy. She concluded with the remarks that companies need to look at water along their supply chain, identify risks and find ways to address them.
Sandra Brühlmann from the Swiss Agency for Development and Cooperation (SDC) emphasized the vital importance of water despite its often low price. SDC engages in various ways to contribute to reducing water risks. It wants to raise awareness and contributes to a comprehensive understanding of water related issues. Furthermore, it also collaborates with key businesses that operate in at-risk water basins.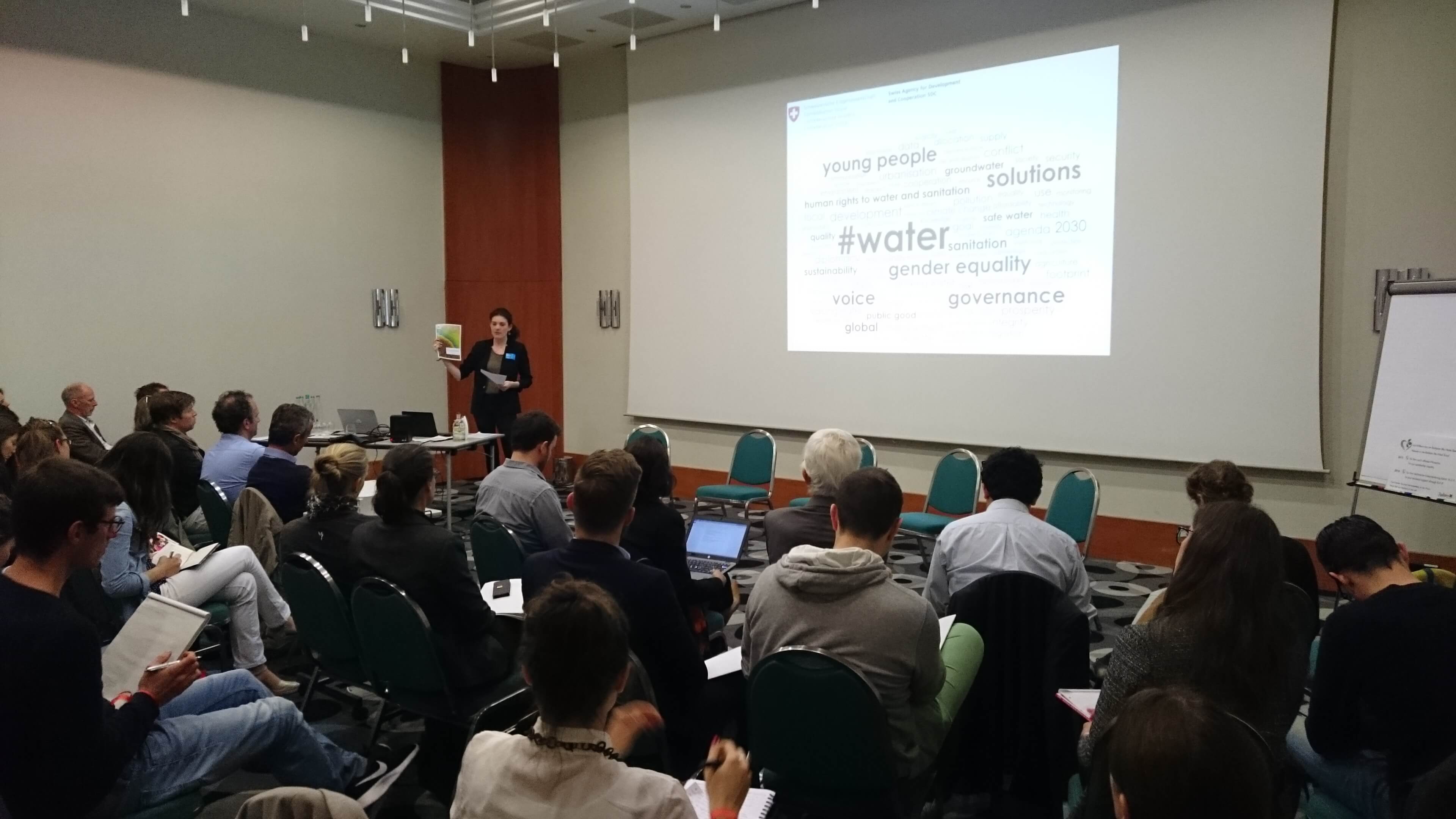 Referring to an initiative in Vietnam, Carlo Galli from Nestlé highlighted the benefits of a public-private partnership, which can lead to higher investments in a single project, as well as greater credibility thanks to the engagement of different stakeholders. The project was co-founded between SDC and Nestlé and aims at improving the water use efficiency of farmers through educating them in better agricultural practices. Carlo Galli also reminded the workshop participants, that actions taken outside of the own company can at times be more cost effective than those taken within a company.
José Luis Carrasco from Aquasis Solutions presented the second case study on a water footprint compensation project in Morocco in collaboration with Coop. As the suppliers had already implemented many measures to increase water use efficiency, the project decided to focus on smallholder farmers living upstream. In order to mitigate water use, they created an alliance of partners with relevant stakeholders and identified suitable solutions for the area. The lessons learned were that new concepts need a lot of explaining at the beginning; a network is a must; and being able to rely on a local team is crucial.
Following the inputs, the participants engaged in a fishbowl discussion. One stream of the discussion was on the question whether companies face big difficulties when they want to start engaging in water stewardship. Regarding this, it was mentioned that water is often not adequately priced – a challenge that, however, can often be outweighed by the significance water has for the production. Engagement is therefore a future-orientation of the company. A limiting factor for engagement possibilities is the complexity of the supply chain.
Another topic of the discussion was on interests and motivations of different stakeholders and whether the incentives given are sufficient to lead to changes. The discussion was sparked by the experience of some that, despite seemingly obvious benefits of new technologies, the adoption rate of these can be very slow by local farmers. The participants arrived at the conclusion that due to different value systems, experiences and expertise, collaboration with people who are familiar with the local context is indispensable.
A further question raised was what it would take for a company to restrain from selling a profitable, yet unsustainable product. The discussion concluded that a single company undertaking an effort will not yield in sufficient results, but rather a collective engagement is necessary, as otherwise people will just switch shops. Good practices however can create a spillover effect. Moreover, creating consumer awareness was deemed a way of creating power for them.
Conclusion
• Global-Local: While water risk is often raised at global level, local actions are mostly important, especially at the watershed scale where all water users are interconnected.
• Collective Action is key and should involve the private and public sectors, government institutions, civil society organizations and communities. Collective action addressing water risk therefore requires multi-stakeholder platforms at local, subnational and national levels, representing all water users. This includes users outside the water sector, for example energy. Moreover, the role of the role of the consumer cannot be neglected, as they can provide additional incentives for the private sector to take up sustainable practices.
• Motivation and incentives: It is important to be clear on the priorities and interests of each category of stakeholders during the watershed management process. Indeed, priorities and interests of the private sector may not always be congruent with the ones of local communities, and win-win solutions may not always be found for everyone. It is crucial to understand each other's value system, therefore collaboration with people and organizations that know the local context is essential.
• Recognizing this challenge, we must develop negotiation processes and analyze the trade-offs between the economic, environmental but also the social objectives of the different groups of stakeholders. The aim is to reach a shared commitment to reduce water risk in the watershed.
• Since there is no blueprint for water risk reduction, we need more examples of stories and good practices of frameworks and models of implementation.
Finally, the ambitious goal of tackling the water crisis can only be reached through collective action.
WWF Schweiz: discussion round
Speakers: Sandra Brühlmann, SDC // Monika Tobler, WWF Schweiz // Carlo Galli, Nestlé // José-Luis Carrasco, Aquasis Solutions // Jean-Baptiste Bayart, Quantis
Moderation: Lucien Blaser, Swiss Water Partnership // Conclusion: Sophie Nguyen Khoa, Swiss Water Partnership // Language: German / English // Target Group: different company representatives: executives, purchasing, sustainability responsible
This workshop focused on two main questions: How can Swiss organizations engage in the south? What can Switzerland learn from the global south? While many Swiss organizations develop innovative solutions to tackle the global water crisis, they face challenges in stepping into the markets of the global south. Thus, the workshop aimed at elaborating ways to establish cooperations with partners in the south.
Workshop results

Responses to the following two questions:
What do organizations need in order to engage in the water sector in the south?
The point of departure on this subject was to take the perspective of an NGO.
As an organization, the NGO needs a strong vision, a solid strategy and motivated leaders. Further, it needs to be able to mobilize resources, such as technical and human competences as well as financial resources. To mobilize funds for its mission, the NGO should already be known, but should also cultivate a flawless reputation and be transparent on the utilization of the donations and on the impacts of its action.
Before starting a new action, the understanding of the local context is crucial for the organization. This means it can identify the needs and knows the consumption habits of the target group in the water sector and is aware of the societal, political and economic aspects in its working area. Collecting this information allows the NGO to establish a network of relevant contact persons. For its interactions with the local actors, the NGO should focus on strengthening a close collaboration with its key partners in the field on a peer-to-peer level. In this regard, the platform www.kfpe.ch has been identified as being particularly useful for (scientific) collaborations between the south and the north.
How can especially small Swiss actors establish successful cooperations with partners from the south?
The participants identified 5 thematic areas:
Cultural understanding: The understanding of the local (business) culture is key. Time is needed to get acquainted with the local habits and to build relations. this usually requires a substantial time of own staff in the country itself
Partner network: A wide local network is crucial for success. Local facilitators may help in this process.
Understanding of the local framework: To be able to work in a country, a profound knowledge of the local framework is needed. Especially the legal framework needs special attention.
Marketable ideas: Good ideas need to be validated in the local market, market gaps need to be identified keeping in mind that there is not a "silver bullet" solutions that fits all customers.
Financial resources: To get started, financial resources are needed. This may be own resources, or blended finances from the North and South, public & private. The Swiss Bluetec Bridge may help Swiss organizations to get started in countries in the South to scale water solutions.
Conclusion
The participants agreed that a) patience, optimism & resilience is key, that b) learning needs to happen mutually to avoid thinking in silos and that it is c) important that the WASH sector is made more attractive for young people.
cewas: working group (joint elaboration of opportunities for action)
Speakers: Michael Kropac, cewas // Sandra Wirth, Swiss Bluetec Bridge // Olivier Magnin, DEZA // Agnes Montangero, Swiss Water Partnership // Thomas Zeller, Swiss Water Partnership // Violette Ruppaner, Swiss Bluetec Bridge
Moderation: Tandiwe Erlmann, cewas // Language: German / French // Target Group: Swiss SMEs, Start-Ups, social enterprises, NGOs and further actors with ideas, solutions or interest in cooperation to tackle the global water crisis in developing and transition countries.
For further information, visit: http://www.eco.ch/workshops17/