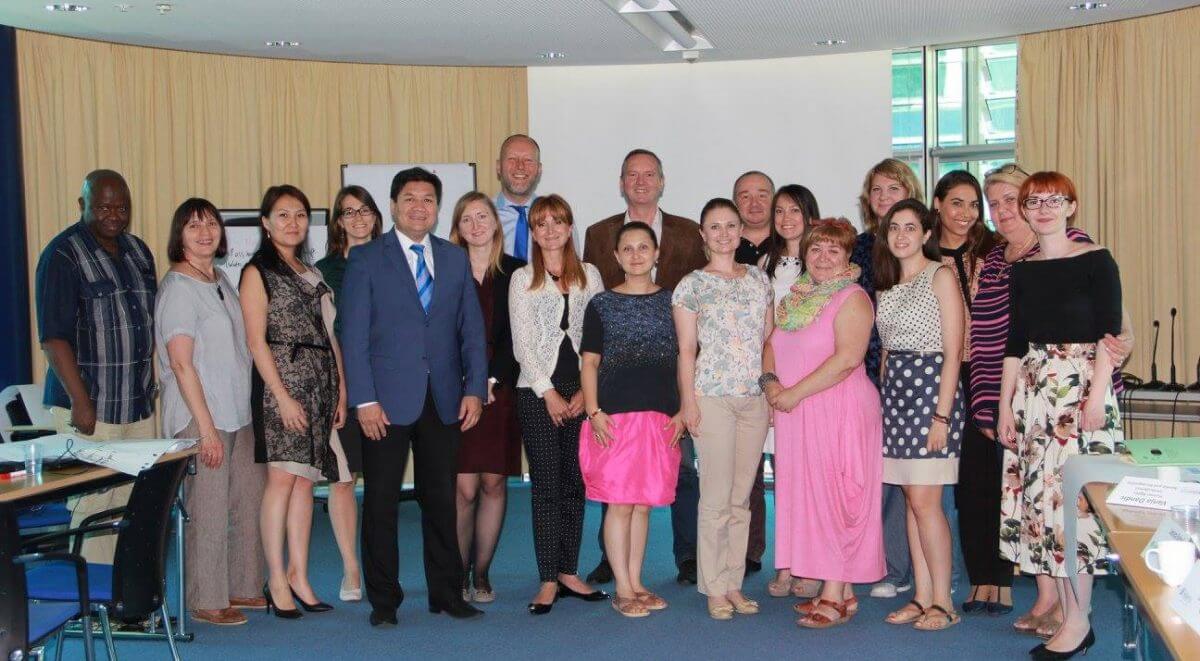 In collaboration with the United Nations Economic Commission for Europe (UNECE), WaterLex Netherlands representative, Jan van de Venis and WaterLex Legal Officer Lenka Kručková trained 18 people from 11 European and Asian countries on "Water Governance and Human Rights" using a broad range of examples from the pan-European region and from specific countries.
This regional training and collaborative workshop was part of a three-day meeting in Geneva where the participants joined the UNECE Protocol on Water and Health meeting. Representatives from Governments, NGOs, and NHRIs of Bosnia and Herzegovina, Bulgaria, Croatia, Georgia, Greece, the Republic of Kyrgyzstan, the former Yugoslav Republic of Macedonia, Moldova, Serbia, Ukraine and Uzbekistan attended. This training was a part of WaterLex's support of the National Human Rights Institutions Initiative for Good Water Governance, designed to create a more prominent role of NHRIs in relation to the right to water and sanitation and water governance. The Initiative goals are to facilitate a network of NHRIs (currently over 30), to build their capacity, and to provide a platform for them to exchange experiences and best practices to ensure a human rights-based approach to water governance.
The purpose of the WaterLex training was to inform the participants about the human right to water and sanitation (HRWS) and to build this knowledge and link HRWS to the Sustainable Development Goals, while mapping their country-specific human rights and water issues in small working groups. Research from UNECE estimates that "19 million people (in the pan-European region) do not have access to improved water sources and 67 million people lack access to improved sanitation facilities. Cleaner water and better sanitation could prevent up to 30 million cases of water-related disease each year in the region. The 1999 Protocol on Water and Health was negotiated with this in mind." For many of the participants the WaterLex training was the first time they were able to see a direct link between their human rights work, the health of their citizenry, and the right to water and sanitation.
Module 1. Introduction to the human right to water and sanitation and other water-related human rightsThe training provided three specific modules for the participants:
Module 2. Practices and experiences and business and human rights and the Sustainable Development Goals (SDGs)
Module 3: Collaborative mapping of specific human rights and water issues

Part 1: Identifying Challenges (country examples and sharing)
Part 2 : Recommendations for moving forward
In Module 1, WaterLex set out to introduce WaterLex and the NHRI Water Initiative. From there, WaterLex provided an overview of Economic, Social and Cultural Rights and an introduction to the human right to water and sanitation. Links between other water governance related human rights and government and NHRI roles and good practices wrapped up the first part of the morning. Module 2 had three focus areas: Practices and experiences around water and human rights from several countries and NHRIs; Human Rights and Business; and a section discussing in detail the Sustainable Development Goals. The participants held intense discussions at the end of both Modules, and shared their specific experiences. This discussion set expectations for the afternoon collaborative mapping of specific human rights and water issues at national level.
In the afternoon, Sonja Koeppel, UNECE Environmental Affairs Officer, attended and presented the linkages between the Protocol and the 2030 Sustainable Development Agenda. She discussed the core obligations of Parties, including setting targets and measuring progress, and she highlighted specific target areas of the Protocol in relation to specific SDGs targets. In addition, her presentation included examples of key activities on equitable access to water and sanitation, such as the Collection of Good Practices (2011) or The Equitable Access Score-Card (2013), a self-evaluation analytical tool that can be use by government in order to support the implementation of policies and practices to uphold the HRWS under the principle of progressive realisation.
When asked after the training, "How would you rate your overall ability to identify key matters in relation to the human right to water at national level?" all of the participants ranked their knowledge as greatly improved. Several of them noted that they would like to use the training materials to share with colleagues and to engage with partner organizations in their countries for opening discussions on the human right to water and sanitation and their national plans.
The participants shared that the likelihood of using the knowledge they gained once they went back to their countries was very high. "I will use the knowledge in my every day activity," said one person. Another noted that, "I'll prepare a project with local CSOs," and another noted that they are very likely to "collaborate with other groups to share the knowledge, as access to water and sanitation is an important issue for my country."
WaterLex plans specific follow up with the participants in the coming months and will provide them with materials and support to encourage continuity in training and knowledge sharing. In the pan-European and pan-Asian region, this training is part of the strategic work of WaterLex to support country's implementation on SDG 6 (Clean Water and Sanitation) and 16 (Peace, Justice, and Sustainable Institutions). WaterLex aims to support our mission, "Sustainable solutions based on human rights to improve water governance worldwide" with training, country mapping, research and collaborative dialogues for improved water cooperation. Acting as a catalyst for change, WaterLex aims to bring sustainable water governance to the forefront of the global agenda.
---
Please see the final programme  posted here: Training on Water Governance and Human Rights_Programme_1 July 2016
Photos are available on  the WaterLex Facebook page.
For further information on the NHRI Water Initiative for Good Water Governance, read more here.
For questions, please contact NHRI(at)waterlex.org
---
WaterLex would like to thank all of the participants and the UNECE Protocol on Water and Health Team for making the event a success.
About the UNECE Protocol on Water and Health.
---
Generous support for this training event was provided by:
The Republic and Canton of Geneva,The Swedish International Development Cooperation Agency (Sida), and The Swiss Agency for Development and Cooperation (SDC).