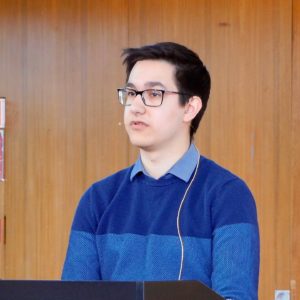 Bern, 18th January 2020. Zamir Borojevic, Swiss Junior Water Prize 2019, shared the stage with Anna-Katharina Funk during the eliminatory workshop of Swiss Youth in Science (SYiS). Both Alumni shared their valuable experiences with a group of students participating in this year's contest.
Every year, hundreds of students countrywide submit projects to participate in SYiS. Students who submitted projects to the national contest last October gathered on 18th January in Bern for the eliminatory workshop, where they presented their work to the field experts. A great effort is undertaken by SYiS to provide each student or group of students who present a project in the workshop with an individual expert to coach them. This coaching often helps the students to improve the theory basis of their projects as well as the interpretation and presentation of their results. Students with a passion for science and the subject of their work profit from this valuable offer considerably.
Approximately 100 projects were selected to compete in the finals taking place from 23th-25th April in Biel/Bienne. During the finals, more than 30 special prizes will be awarded to the best projects, among them the Swiss Junior Water Prize 2020.