At this year's SWP General Assembly (12th June), 37 participants from 29 SWP member organizations had the chance to learn more about the Swiss Association of Water Utilities (Schweizerischer Verein des Gas- und Wasserfaches – SVGW) and the Swiss Water Supply Sector and to discover the Zürich Water Utility (ZüriWasser) during a guided tour. (Access the Minutes from the Statutory Part HERE.)
Presentation on "How SVGW supports the drinking water sector"
André Olschewski (SVGW) presented "How SVGW supports the drinking water sector" (Swiss Water Supply Report). Swiss Association of Water Utilities (Schweizerischer Verein des Gas- und Wasserfaches – SVGW) represents 530 drinking water utilities and 70 % of population served. He presented the organisation of the network, key technical processes (Water safety plan and quality control – HACCP), the legal basis, roles and responsibilities, as well as the funding structure and some political issues in Switzerland. He provided us with following key facts on water and the major challenges for the Swiss water supply sector insights:
Key facts on water in Switzerland:
Even though there was a population growth in Switzerland, the consumption of water decreased due to technical innovation and efficiency. It creates the challenges of a reduced flow in pipes as well as less income for the utilities.
About 70% of water distributed does not need major treatment.
The average daily consumption per capita in households is at 142 liter, while it is at 300 liter including the industrial sector. As the costs of 1 m3 are at 2 CHF, the average costs per capita in a household are at 0.30 CHF/ day.
Most water in Switzerland is provided through groundwater (396 Mio m3/ year) and springs (357 Mio m3/ year). Less than a quarter comes from surface water (180 Mio m3/ year)
Sustainable financing and governance of water supply by communities:
A large part from funding is covered by member fees and not by public funding. The utilities need to reinvest 51 Mrd CHF per year to keep the level of infrastructure (replacement value) and is mainly used for replacing the distribution system (79% of replacement value).
The key organizational principle is the subsidiarity principle: It is the task of the communes to provide water, but cantons are owner of the water bodies.
Recruitment for the sector:
Young professionals do not want to take the jobs in the water sector.
Climate change adaptation:
The groundwater table in 2018 was extremely low. It was considered to adapt the water activities in the cantons.
Protection of water supply resources from pollution – A political issue:
The protection of water is necessary against pollution from pesticides or other inputs (i.e. Atrazine, Chlorothalonil, 70 % of groundwater sampling sites with main land use farmland show concentration of pesticides or metabolites > 0.1 µg/L, unknown impact of cocktail of pesticides in ground- and drinking water). Drinking water is safe, but there are regional exceptions. For some inputs, it would need 10 years to decrease the concentration in groundwater. There are two political initiatives in Switzerland to protect water bodies. SVWB supports a third way, which focuses on water quality (after the initiative on establishing protection zones failed). The Steering Board of SVGW is currently discussing different possible ways how to influence this political issue (Lenkungsabgabe, influencing laws, etc.).
SVGW and the international context:
André Olschewski misses the discussion on SDG6 within SVGW. He supports the idea that if pesticides are banned in Switzerland, it should be also banned in other countries.
The SWP secretariat encourages SWP members to send a request to link up with SVGW (i.e. vocational training from SVGW, etc.).

(Access the Minutes from the Statutory Part HERE.)
Presentation by ZüriWasser on "Clean and safe drinking water for everyone" (Dr. Jakob Helbing, Philipp Schneider)
Dr. Jakob Helbling (Qualitätsüberwachung Verfahrenstechnik) from ZüriWasser presented how the water utility in Zürich provides "Clean and safe drinking water for everyone". Its main task is to provide water supply and water for firefighting to 400'000 inhabitants of the city of Zürich and to 506'000 inhabitants in different communes on a contractual basis. The water production from different sources, the distribution, the water quality and storage in Zürich was presented:
Lake water treatment and its historic development
In 1869, the first water supply system with pipes, two different pressure zones and a pumping station was created. Before this time, only fountains were used.
In 1884, the city of Zürich found out that a typhus epidemia was caused by drinking water from the main river Limat. This led the first time to the question how safe it is to drink "lake water" and if it should be allowed to fetch water only from spring water. The city of Zürich concluded that lake water can be safe if it is treated, leading to the fact that also today most of the water supply is provided from lake water in Zurich (70 % lake water, 15 % spring water, 15 % groundwater).
One year later, in 1885, the first lake water treatment plant was constructed.
In 1911, the first sand filtration lake water treatment at Moos was built and is still in use. It has a capacity of 100'000 m3/ day, including 20'000 spring water. Today the infrastructure the treatment plant in Moos is ageing. However, innovative technologies are difficult to install, as the building, infrastructure and even the grass are under protection.
In 1960, the lake water treatment plant in Lengg was built. It is an underground water treatment facility that extracts lake water from 30 m depth. The water is relatively safe in this depth as the main pollution from ships and surroundings remains in the upper surface water layers. The treatment plants are in highest use in Spring and Autumn when there is the water takeover (due to anomalous property of water at 4° C)
To produce clean water from the lake water in Zürich it needs several steps (i.e Ozonation, Sand filtration and BAC filtration). There is no chlorination of the water to avoid the bad taste (the idea of chlorination is strictly "forbidden" by the management).
Groundwater plant and fountains in case of an emergency
The groundwater plant in Hardhof is mainly used as an emergency supply. Its advantage is that it can fill gaps of low water provision: In contrary to lake water treatment plants which need a constant flow, groundwater can be taken out only if needed.
As the summer 2018 was a record year and caused the highest demand of water ever, the need of an emergency water supply system through groundwater became more evident, despite its high cost to maintain the system.
To enrich the water with oxygen and to avoid pollution during the groundwater recharge, a combination of oxygen enrichment basins, underground wells for infiltration and pump system is used: The water is pumped up behind the oxygen enrichment basins and the wells, so that a hydrostatic barrier is established. This avoids that fresh water is mixed with contaminated water from the nearby highway and railway system.
There are 85 emergency water fountains in Zürich, which are connected with hospitals to provide them first with water in case of an emergency. An emergency status of water provision would only arise if there would be no electricity for three weeks. The electricity is needed for the water pumping stations.
Distribution systems
The lake of Zürich is surrounded by a large ring pipe system, which distributes the water in smaller pipe systems and into different pressure zones.
In total the distribution system is 1550 km long and has 8000 Hydranten
The yearly rate to renew pipes is at 30 km.
There are 500 leakages in pipes with around 5-10 % water losses (not official numbers as it is difficult to say).
Water quality testing
Drinking water is foodstuffs. Its control is based on self-control and the HACCP concept (Water safety plan and quality control).
The quality control of drinking water is measured through 1400 lab parameters and 14000 samples/ year. It involves 450 online sensors and 4 biosensors (i.e. fish and Daphnia which are commonly known as water fleas). As the evaluation of most parameters need several days, biosensors are pretty important for immediate quality concerns. For example, the movement of the Daphnia turns out to be a quite good indicator, as the Daphnia immediately moves abnormal (linear instead of in circles) if there is any water quality concern. Even though the movement is tracked by a high-tech machine, the technique remains labour-intensive as ageing (2-weeks-old) and rapidly reproducing Daphnia needs to be taken out by hand. For the future measurement of water quality control, it was questioned, if it is necessary to measure even more parameters as it becomes more expensive and the legal framework is not even given.
The access to data on water quality collected by ZüriWasser is not open, but can be shared upon request.
Storage and energy consumption
To fill the water storage reservoirs in Zürich, water is pumped in during the night. This is done during the night because large amounts of energy are needed to keep and thus the electricity system needs to be kept stable. ZüriWasser has the second largest energy consumption in Zürich. Thus, using renewable energy become more important for them and is currently worked on in a project in cooperation with the energy utility provider (EWZ).
It was a great opportunity for the SWP members to learn more about the water provision in Zürich and in Switzerland. We are grateful to this years host SVGW and ZüriWasser for providing us such interesting insights and for welcoming us at the groundwater plant at Hardhof.
The afternoon part was dedicated to the statutory part including practical discussion groups on the topics of youth, Dispatch on Swiss International Cooperation, Climate Change and Water.

It was also the moment to say goodbye to Agnès Montangero, Secretary General, and Thomas Zeller, Co-Chair of the SWP, both active since 2012. The SWP is highly grateful for their valuable contributions and high quality inputs for shaping the Swiss Water Partnership. Bernita Dornboos was welcomed as new Secretary General and the platform is looking forward to working with her for the new SWP phase 2019-2021. We wish her good luck with the new assignment.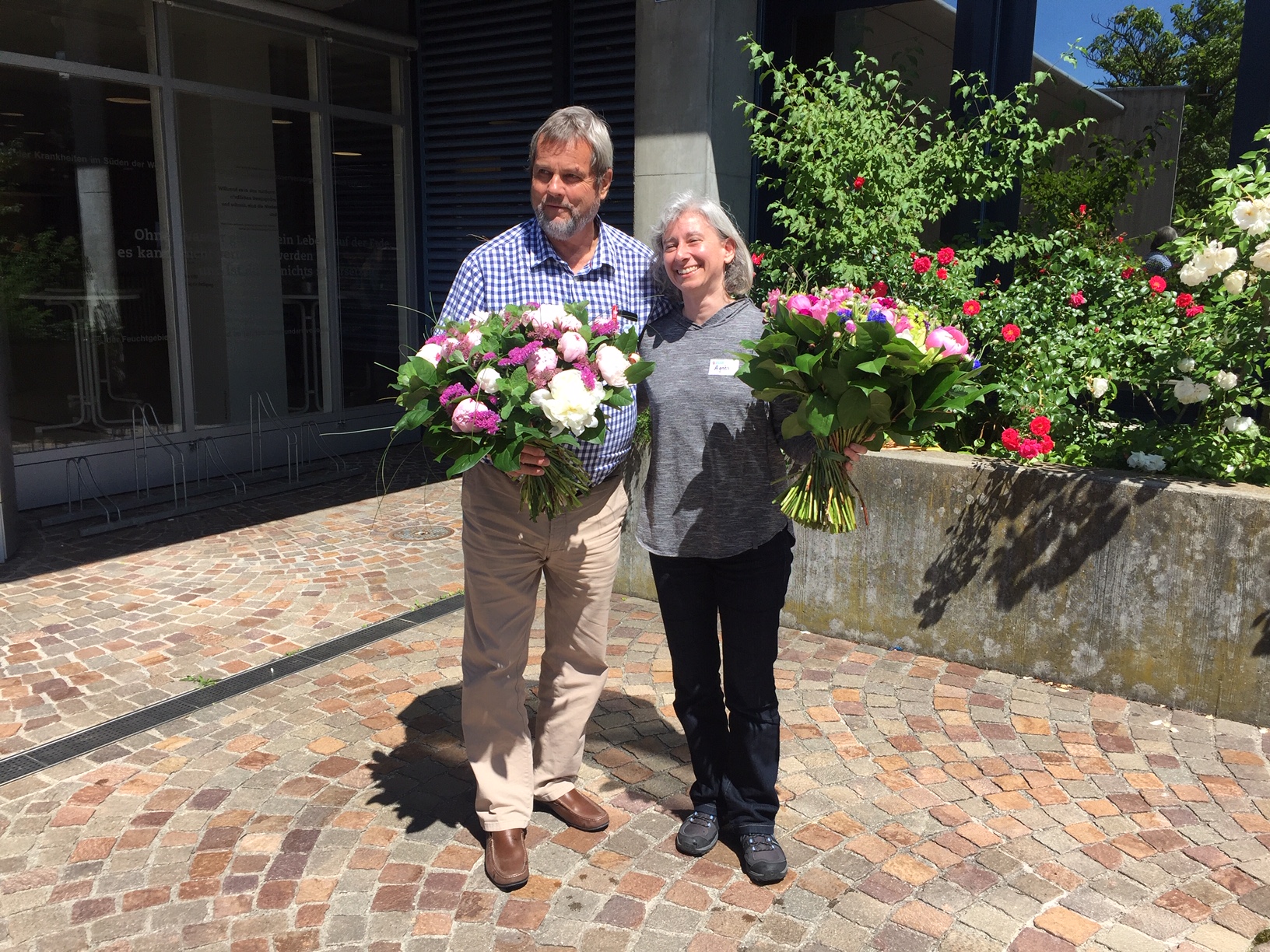 Former Co-Chair Thomas Zeller and Secretary General Agnès Montangero, 12th June 2019.
(Access the Minutes from the Statutory Part HERE.)