Call for Proposals 2020
Are you interested in Water for Development?
Are you between 15 and 30 years old?
Do you have a new and innovative idea that needs seed funding to start?
Is your project going to take place in Switzerland or is it Swiss-related?
Then your project can get a seed grant of up to 1000 CHF !
Applications have closed for this round in 2020. Please revisit in early 2021.
Winners of 2020 Call for Proposals
Four really exciting proposals won the funding grants in this round. Here is a brief description of the projects. For more information on each of these, please get in touch with us.
NETWORKSHOPS: Networking events: Link Swiss young water talents to professionals of the Swiss water for development sector.
HUMAN RIGHTS FEEDBACK PLATFORM:

Sensitize and mobilize health workers and patients to know and demand their human rights to water and sanitation through a simple and confidential online feedback platform.

WATER BOUNDARYLESS CHAIN:

Blockchain based tool to improve transboundary water management and cooperation.

THE DROP: When a drop of water mirrors social

collapse. Documentary m

ovie on water equality. 
How to apply?
Applications have closed for this round in 2020. Please revisit in early 2021. 
Become a member of SWP Youth by signing up here (it's free)!
Fill out the template in English, Deutsch, Français, Italiano or Español. Contact us, schreib uns, écris-nous, scrivici, escríbenos, if you need support in translating the template content.
By July 15, s

end your finished proposal to

swpyouth@gmail.com with the subject line :
"Youth Project Proposal 2020 – Project Name

"
Do you have any questions about your eligibility? Do you need potential partners for your project in other countries? Are you based elsewhere and want to team up with a Swiss based organisation? You can contact us.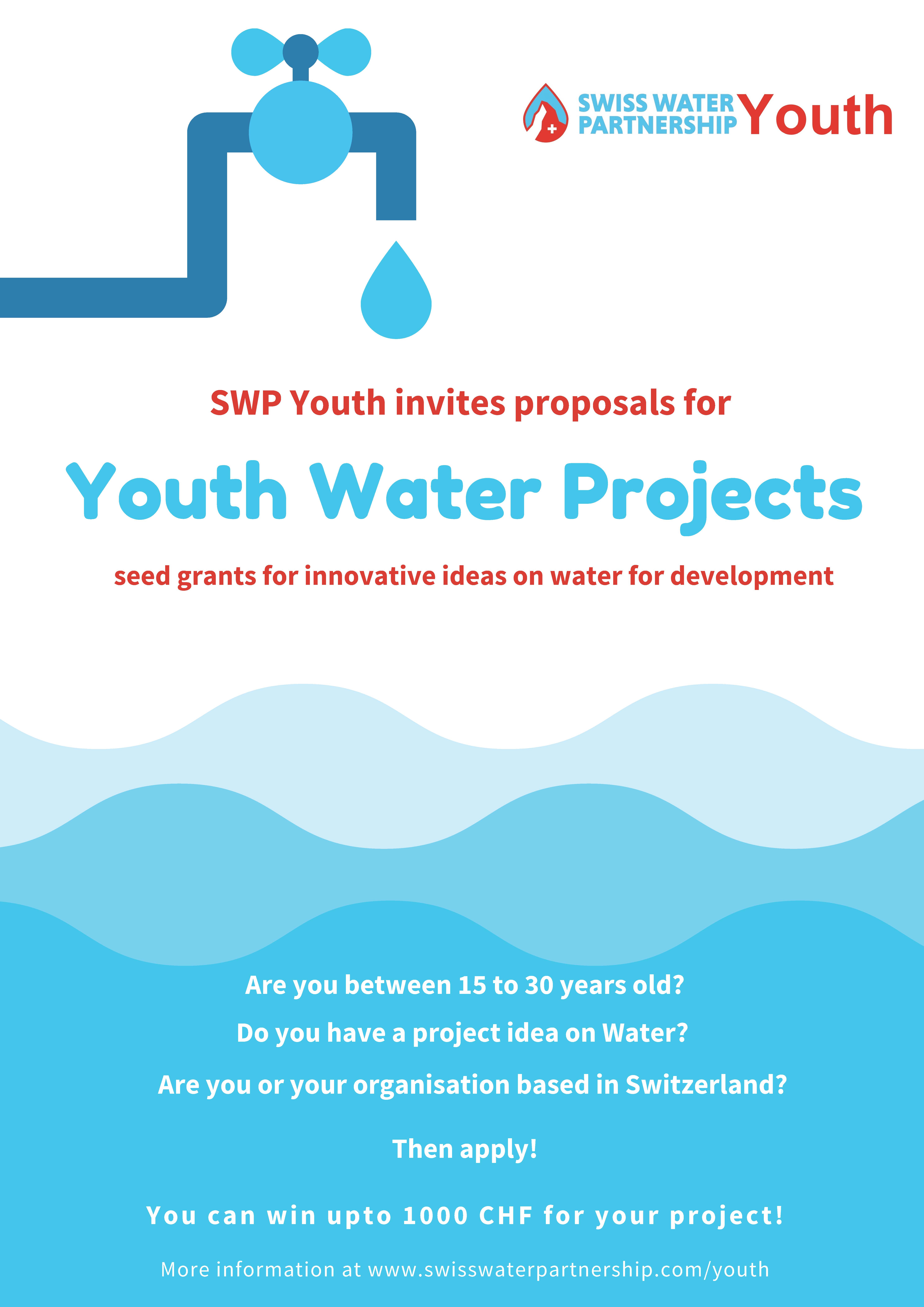 Join our upcoming meetings
You want more information on our activities or want to get to know us better: As a SWP Youth member you will receive an invitation for the next meeting.
Former meetings: 
SWP Youth Meeting – Online, June 2020:

Slides
Pitching & Financing SWP Youth Initiatives – Online, March 2020
Vision and Governance: How do we operate, decide, and communicate? – Online, Nov. 2019
SWP Youth | Kick-Off Meeting – Bern, Sep. 2019                                                                                                                              
Start Your Career in Water
Are you looking for a job in water for development?
Do you offer a job for young professionals? Then send a message to Josh.
If you know any other water job portals, you can let us know.
Contact Us
If you have any queries, please reach out to us at swpyouth@gmail.com
What is SWP Youth? Find out here.
Deutsch, Français, Italiano, Español or English?
Du kannst uns gerne auf Deutsch schreiben  |  Tu peux nous écrire en français  |  Potete scriverci in italiano  |  Puede escribirnos en español  |  You are welcome to write to us in English