Mar 16, 2018 | 12:00 am - Mar 23, 2018 | 11:59 pm
Ganztägig

Call for participation: World Youth Parliament for Water General Assembly
We are pleased to share an exciting opportunity for youth to engage in the water sector!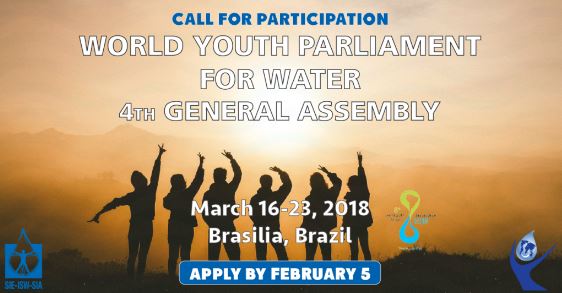 The International Secretariat for Water and the World Youth Parliament for Water invite all young people active in the water sector to apply to the 4th General Assembly of the World Youth Parliament for Water. The Parliament will be held during the World Water Forum (18-23 March 2018 in Brasilia), on the theme of Water and Peace.
WHY A GENERAL ASSEMBLY?
Every 3 years, young talented persons from all over the world are gathered during one week to work together shaping and sharing youth perspectives for a more sustainable future regarding water and sanitation. This week is also an opportunity to renew the membership of the network and to elect new representatives for the network. Taking part to WYPW means being willing to be committed for water through WYPW network for the next 3 years. A general Assembly means also concrete actions, working with experts, cultural discoveries, intense work and discussion, few hours of sleep, fun and new friendships.
Have a look at the 3rd General Assembly organized in South Korea in 2015.
The theme of the General Assembly 2018 will be Water and Peace.
OBJECTIVES OF THE GENERAL ASSEMBLY
Valorize the local actions of youth active for water.
• Expand the knowledge of the youth on water related issues and give them proper tools to be better actors for water.
• Create ties between the different youth initiatives and allow new, concrete actions to emerge.
• Define a vision to contribute to the international agenda of the water sector.
• Renew the representatives of WYPW
WHEN AND WHERE
Brasilia, March 16 – 23, 2018. In the framework of the 8th World Water Forum.
WHO CAN APPLY?
Young people between 18 and 27 years old from all over the world.
SELECTION CRITERIA
Involvement in the water or sanitation sector (national, regional or international levels)
• Experience/background
• Motivation and interest
• Added value for the network
• Gender and geographical balance
Application Deadline: 5th February 2018
For more information on the application click on the LINK.
Map Unavailable