Mar 22, 2019 | 12:00 am
Ganztägig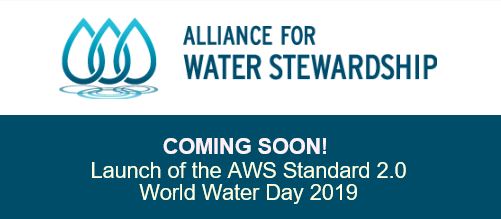 This World Water Day (Friday 22 March 2019), the Alliance for Water Stewardship will be launching the new AWS Standard 2.0. The launch follows a two-year multi-cycle public consultation, extensive input from AWS Members, Partners and Stakeholders and an AWS Member Ballot on the final iteration of the new version of the AWS Standard.
The new Standard will be available to download from their website on Friday 22 March. They will be hosting webinars which outline the main changes from V1.0 to V2.0 across four time zones globally. To register for one of the webinars, please visit the website and sign up for the webinar you wish to attend.

Map Unavailable