Feb 6, 2019 | 8:00 am - Feb 7, 2019 | 6:00 pm
8:00 - 18:00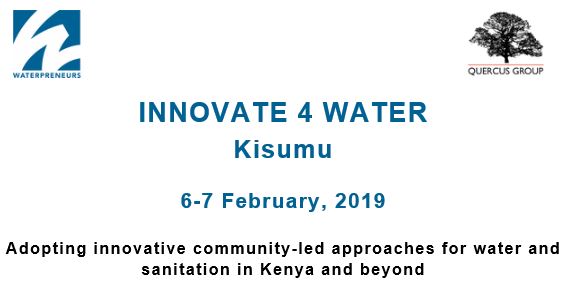 "
Innovate 4 Water
" in Kisumu (Kenya) will provide an opportunity for key water & sanitation stakeholders to engage a unique mix of entrepreneurs and investors to forge, strengthen and deepen public-private partnerships that will conceptualize and incubate financing of innovations and technologies that should accelerate progress towards the realization of safe water and sanitation coverage.
The event is endorsed by the Water Service Providers Association (WASPA), the Kenyan Government and its Vision2030 Delivery Secretariat and sponsored by Aqua for All and KIWASH-USAID.
During this forum, we are gathering innovative scalable solutions that should be of high interest to:
Water operators (utilities, entrepreneurs) in particular to diminish their non-revenue water, but also to attract financing, develop partnerships and to expand their activities.
Investors and funders, in particular, to identify promising bankable deals that deliver a positive impact on access to safe water and sanitation.
Map Unavailable