Nov 7, 2019 | 9:00 am
9:00 - 10:30

Room VIII, Palais des Nations | Geneva

Geneva Peace Week – Intergenerational Dialogue on Water and Peace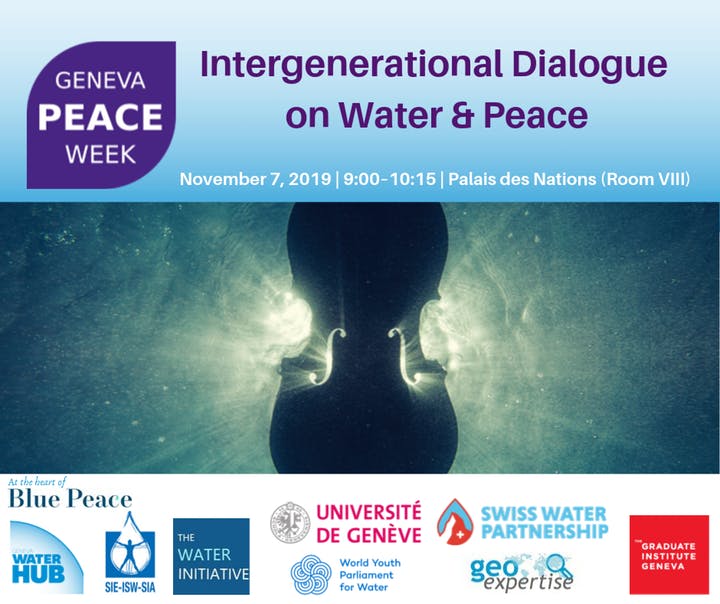 Geneva is a global hub for actors active in governance and international cooperation, which work for peace, rights and well-being, touching the lives of individuals across the world. Geneva Peace Week offers an opportunity to connect and highlight the work of these actors and to expand the space for building peace and resolving conflict through dialogue and negotiation.
In the context of the Geneva Peace Week, a consortium of SWP members and partners are delighted to invite you to attend the Intergenerational Dialogue on Water and Peace. Involved members and partners include the Geneva Water Hub, the International Secretariat for Water, GeoExpertise, the Graduate Institute, Swiss Water Partnership, University of Geneva, Water Initiative and the World Youth Parliament for Water.
The Intergenerational Dialogue will bring together young and senior experts who will be matched in pairs to discuss the nexus between water and peace through three thematic dialogues. The exchange will showcase advanced student and young professionals' contributions to peacebuilding. The discussion will allow an exchange of good practices and learnings. The dialogue about water and peace among the young and senior experts will include the following themes:
Local and inclusive water management practices for conflict prevention.
Water in contemporary warfare from a civilians' perspective.
Fostering transboundary water cooperation.
The session will feature a special artistic intervention from the "Imagine BluePeace" call produced by the International Secretariat for Water, the World Youth Parliament for Water and the Geneva Water Hub.
Registration:
Mandatory double registration required via:
The event poster is available below.
Further links:
Event location: Room VIII, Palais des Nations, Pregny Gate, 1211, Geneva, Switzerland
Map Unavailable