Nov 28, 2018 | 4:00 pm
16:00 - 18:15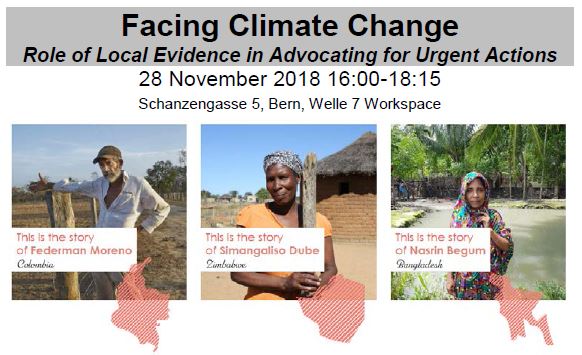 About the Event: Civil society has a key role to play in holding governments accountable to the commitments made in the frame of the global frameworks and in advocating for Disaster Risk Reduction and Climate Change Adaptation interventions that respond to local needs. "Local evidence" pairing scientific proof with a personal or illustrative narrative that touch people's emotions is a powerful tool to advocate for urgent climate action and risk informed development.
Taking forward the outcomes and key messages from this year's practitioner's workshop "Local evidence for disaster and climate resilient pathways – an advocacy journey" hosted by the Swiss DRR NGO Plattform, this Public Event will elaborate on local evidence as instrument to advocate for low carbon, risk-informed and climate resilient development pathways. Representatives of grassroot advocacy organizations, civil society networks, media and the Swiss Government shall reflect on the use of local evidence for advocacy and how it needs to be framed to create awareness and bring it to the policy dialogue. The momentum of 24th Conference of the Parties to the United Nations Framework Convention on Climate Change in Katowice (COP24) and the Global Platform for Disaster Risk Reduction in Geneva (GPDRR 2019) will be used to bring the distilled messages to policy fora.
Registration: Please register HERE.
Invitation Flyer: Please click HERE.
Map Unavailable