11. February 2019 | at Eawag in Dübendorf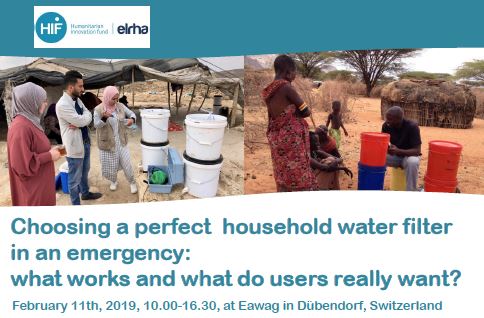 Household water treatment and safe storage (HWTS) devices are an essential element within humanitarian emergencies to improve quality of drinking water and achieve health impact. However, evidence that HWTS products are used correctly and consistently in emergency settings is limited. To increase the ability of Humanitarian Agencies to make informed choices about the procurement and distribution of household water filters in emergencies, and motivate producers to improve design, Humanitarian Innovation Fund (HIF) initiated this project.
In total 420 household filters of five types in three emergency contexts during the period of 9 month have been evaluated. The focus of the study was
on the technical performance of the filters regarding use, flowrate as well as bacterial removal. We have differentiated between filter integrity, post-contamination and microbial re-growth to obtain more in-depth understanding of the challenges and limitations of different products.
ease of use, operation and maintenance, functionality, size and aesthetics from the point of view of the users. The users and implementers were involved in different ways including structured surveys and observations, as well as open end discussions and a co-design workshop.
optimization potential for different products to better suit needs of users and implementers.
This workshop will focus on the following:
The presentation of the results from field studies in Palestine and Kenya
The prioritization of filter features based on the results and personal experiences of the participants
Create space for discussion on the implications of the results for implementers and manufacturers
And finally, contribute to design a better filter!
More Information HERE.
For registration, contact maryna.peter@fhnw.ch