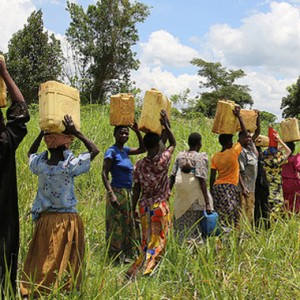 The principle aim of a water access, sanitation and hygiene (WASH) project is to create conditions under which risk of waterborne disease transmission are minimised. However, providing a community or school with safe water that improves health conditions is not a matter of simply installing a new, clean source. It is also necessary that communities realise a transformation in their mentality towards hygiene and the benefits it brings such that they are willing to make it a priority and pay for it to be maintained.
Whave Solutions Ltd. is working with the Ugandan government to develop a national safe water programme that contracts local water service entrepreneurs to establish and maintain improved water sources and promote hygiene. All water access interventions use low or zero carbon emitting technologies supplied by local producers who reach those households with the greatest needs based on consultations with local communities and NGOs. These entrepreneurs help facilitate this link by working through local Water User Committees in order to form a public-private link between water provision and real community needs. This long term and self-sustaining strategy seeks to achieve the transformation in hygiene attitudes necessary to ensure that water access interventions are maintained.
Whave was formed in 2011 by experienced development professionals to create a more effective framework for development following the principles of results-based finance. Following a successful one year pilot of this concept in 10 communities in southern Uganda, Whave will use the revenues from the sale of WBCs to expand the concept to cover the whole country and beyond.