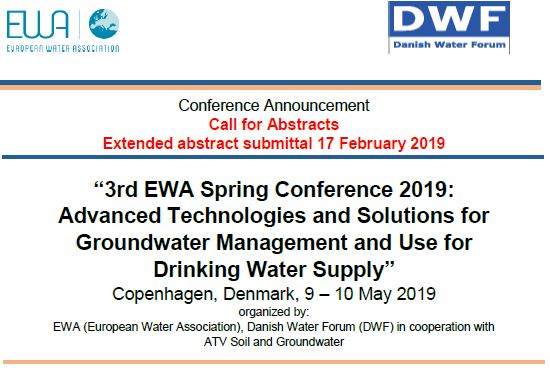 The European Water Association (EWA) Spring Conference organized by the Danish Water Forum (DWF) in cooperation with ATV Soil and Groundwater to take place in Copenhagen 9 – 10 May 2019 herewith invites authors to submit abstracts for oral presentations or posters.
The theme for the conference is Advanced Technologies and Solutions for Groundwater Management and Use for Drinking Water Supply, with the following sub-themes:
• Groundwater-based Drinking Water Supply (Treatment, Distribution, Monitoring and Control, and Reuse)
• Groundwater Remediation
• Groundwater Mapping, Monitoring and Modelling
We invite all water professionals involved in research and innovation as well as practical demonstration of water solutions within these sub-themes to submit an abstract by 17 February 2019 at the latest. Abstracts must fall within the theme of the conference, and we in particular invite abstracts within the mentioned sub-themes. Presentations should have a European perspective or relevance. Abstracts are to be no more than 250 words long and must be submitted electronically together with a short biography of max. 150 words ( delivered in WORD) to Danish Water Forum clearly marked "Abstract EWA Spring Conference 2019" A final notification as to whether the abstract has been accepted for either oral or poster presentation will be provided by 1 March 2019. There is no limit to the number of abstracts you may submit. Please indicate the preferred platform on the submission form. The allocation of presentations is at the discretion of the Organizing Committee.
Conference Key Dates:
Abstracts close NEW: 17 February 2019
Abstract acceptance notification sent: 1 March 2019
Draft programme available: 15 March 2019
Author registration closes: 1 April 2019
Early bird registration closes: 15 February 2019
Conference: 9 – 10 May 2019
More information: