Feb 7, 2019 | 12:00 am - Feb 8, 2019 | 11:59 pm
Ganztägig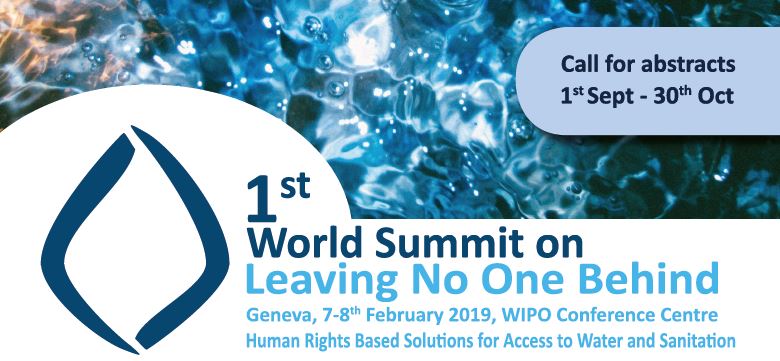 Call for Abstracts
The 1st World Summit on Leaving No One Behind welcomes abstracts for the Exploratory and Flagship Sessions that aim to incorporate science and policy for water and sanitation challenges linked to the issue of Leaving No One Behind. Experts, academics, water professionals, and stakeholders from all disciplines – including science, policy, economics, management, and governance – who wish to present their ideas and research during the Congress must submit abstracts from September 1st to October 30th, 2018. Abstract proposals must be prepared in English and submitted through the Abstract Submission Platform. Abstracts should clearly describe the ideas for research, project, study, or paper ("project") in under 500 words and include: the purpose or thesis of the project;
a summary of the key issue(s) or problem(s) addressed;
the methodology or procedures used;
a summary of the results or conclusions to be derived from the project;
a summary of the implications of the project or its results; and
incorporate a science-policy dimension.
Abstracts should not include graphs, charts, diagrams, images, references, or citations. Abstracts will
be reviewed by the SSC on a rolling basis. All authors of accepted abstracts (for both exploratory and flagship sessions) are expected to prepare and submit a paper, due on 15th January, for review by sponsors and inclusion in the Summit Proceedings.
Summit Themes
The following six themes will form the framework for the Summit and the topics of the panel sessions.  Each will be sponsored.
Refugees and Migrants
Innovations for water and sanitation technologies for displaced persons
Recognition of status of refugees with respect to water and sanitation
Women
Technologies that are geared to benefit women
Initiatives to benefit women's safety, inclusion and participation
Children
Water and sanitation safety technologies that help boys and girls in schools, hospitals, homes
Governance ideas to highlight children's susceptibility to water borne diseases
Indigenous Peoples
Nature-based solutions for protection of ecological and cultural aspects of water
Recognition of status of indigenous people in decision-making and policy
Rural Areas
Economical and accessible technologies for remote areas that are suffering from lack of access
Governance practices that can support awareness and involvement of rural communities
Climate Change
Science and technology for improving climate resilience for people in areas at risk
Policies for supporting action for climate resilience
About the 1st World Summit on Leaving No One Behind
Human Rights Based Solutions for Access to Water and Sanitation, Geneva, 7-8th February 2019, WIPO Conference Centre
Introduction
Solutions for access to water and sanitation for the people that have been left behind is an issue of human rights, whatever the cause, be it poverty, water scarcity, climate change, conflict situations or cultural and gender barriers. Solutions need to be innovative, economical and easy to implement.  Overarching these constraints there also needs to be a supportive political climate and strengthened governance to overcome corruption, inertia, and budgetary constraints.  The nexus of these three aspects of Human Rights-Based Water Governance, Innovative Technology and Economic Feasibility provides a topic for this Summit, and a platform to bring together ideas and people in a constructive environment.  The clear outcome from the two days is to find tangible projects to pilot, with funding attached to them.
"Leaving No One Behind"
Sustainable Development Goal 6 (SDG 6) on water to "Ensure availability and sustainable management of water and sanitation for all" highlights the overarching principle of "Leaving No One Behind". In committing to the realisation of the 2030 Agenda for Sustainable Development, Member States recognised that the dignity of the individual is fundamental, and that the Agenda's Goals and targets should be met for all nations and people and for all segments of society.  Furthermore, they endeavour to reach first those who are furthest behind.
This 1st World Water Summit on Leaving No One Behind aims to fill a need that is not yet met by other water conferences and provides a kick-off event as part of the 2019 UN-Water campaign on this theme. It differentiates itself from other water conferences by the focus on human rights to water and sanitation, and the focus on finding and implementing workable solutions with support from funders.  The event is envisaged to be held annually for the next 11 years, for the duration of the SDG Agenda, and form part of the wider campaign to achieve SDG 6.  The outcomes from these events will be interlinked with other global water events, such as the High-Level Panel on Water (HLPW), the World Water Forum (WWF) and World Water Week (WWW), and form part of the UN-Water annual campaigns.
Overview of the Summit
The Summit will be the first event in 2019 to find ground-breaking technical and governance solutions for the topic of "Leaving No One Behind", bringing governance leaders and funding agencies together. The first day highlights innovative research through a competitive call for abstracts through our combined technical networks, culminating in a prestigious Awards Dinner. The following day provides a more dynamic platform for bringing real projects and funders together in an engaging manner.  Importantly, the outcome will set off a stream of chosen projects that can help to solve some of the challenges for the people that are being left behind in the least developed countries. These projects and tangible outcomes will be presented as workable solutions at forthcoming high-level events, such as the HLPW, WWF and WWW. There is an opportunity to run this Summit annually, teaming the "Leaving No One Behind" topic with the annual UN-Water theme, such as Climate Change in 2020.
Structure of the Summit
It is proposed to structure a two-day event, as follows:
Day 1:
Flagship Projects: Plenary Sessions to showcase the most promising ideas from the call for scientific and policy research abstracts on the topic of Human Rights Solutions to Water and Sanitation. These should highlight accessible (achievable, cost-effective) and innovative solutions that are relevant for people from least developed countries and situations that are aggravated by situations of poverty, water scarcity, location, climate change, conflict situations or cultural and gender barriers. A limited number of selected experts will present scientific and policy-enabling ideas around the topic of "Leaving no one behind". Potentially half of which are technology focussed, and half are policy related (including HRWS).
Awards Dinner "Leave No One Behind Innovation" Award for the most promising idea presented during the day, including funding for the winner to start a feasibility study. Winning idea can be either technology or policy driven, and it must aim to help solve the issue of how to ensure access to water and sanitation for people in marginalised situations. Votes from judges during the day.
Day 2:
Exploratory Projects: Panel presentations and discussions whereby a mix of experts are given the opportunity to pitch their ideas to a wide range of donors and other interested organisations that wish to support the topic of "Leaving No One Behind". These six sessions will each include six presenters (strictly 15 slides at 20 seconds each, total 5 minutes each, plus question time) providing an opportunity for each person to promote their ideas to the room.
Each panel session will be sponsored by at least one major donor, that has committed to choosing and funding a pilot study for the best idea from each session. Progress from these pilot studies will be reported in time for presentation at WWW in August in Stockholm. Decision made by sponsors.
Further Information:
Map Unavailable