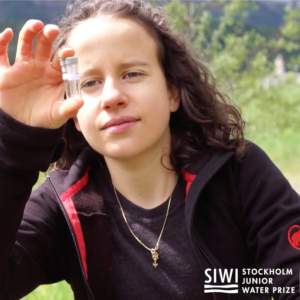 Despite the cancellation of the Stockholm World Water Week 2020, the Stockholm Junior Water Prize 2020 will be carried out in a modified format. Most countries were able to pull out National Contests under the current challenging situation, and the finalists have already submitted their projects to be evaluated by the international jury. This year, after the jury evaluates the written projects, only a reduced number of finalists will be interviewed by the seven members of the jury using online platforms. The award ceremony will take place during the week of the 24th to 27th August 2020 and it will be broadcasted live.
A welcome addition to the contest are the finalists´ video presentations, or elevator pitches, which are now available on the SJWP Finalists´ platform, WaterTank. A "People´s Choice Award" is expected to be chosen by audience voting on the video presentations. The Swiss finalist Anna Sidonia Marugg made an attractive presentation of her project "First Evidence of Microplastics in the Waters of the Upper Engadine in Switzerland"
See Anna Sidonia Marugg´s project description and elevator pitch here
Sponsors
The Swiss Junior Water Prize can be carried out thanks to the sponsorship of the following organisations.
Contact
By interest to support the Swiss Junior Water Prize, please contact karla.schlie@swisstoilet.org or Sandra.Fuerst@swisswaterpartnership.ch
Social Media