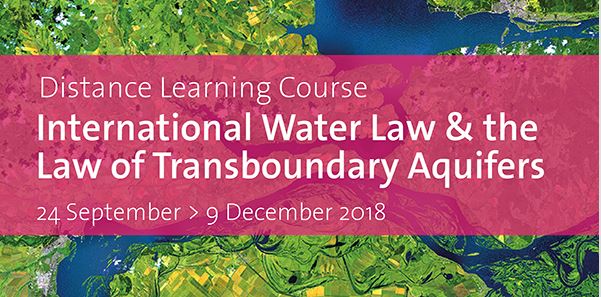 The Geneva Water Hub  is launching the 3rd edition of its Distance Learning Course on International Water Law and the Law of Transboundary Aquifers that will take place from 24 September to 9 December 2018.
The course's goal is to provide professionals involved in the negotiation or implementation of treaties related to transboundary surface and ground water resources with advanced knowledge of the principles and norms that govern the use, equitable sharing and sustainable management of these resources. This international legal framework contributes to the prevention of water-related conflicts among riparian States.
The course is composed of six thematic modules and an additional practical module consisting in the resolution of a case study.
Module 1: Sources and Concepts of International Water Law
Module 2: The Evolution of International Regulation on Transboundary Water Resources
Module 3: The Law of Transboundary Aquifers
Module 4: The Principles of the Law on Transboundary Water Resources I
Module 5: The Principles of the Law on Transboundary Water Resources II
Module 6: Water and International Economic Law
Case Study: Analysis and Legal Resolution
Participants completing all modules are awarded with 4 ECTS equivalent to 120 learning hours (an average of 10 hours of personal work per week)
The registration fees are 900 Swiss Francs. However, full and partial scholarships are available for participants coming from least developed and non-OECD countries. The registration/application deadline is 19 September 2018.
The course is carried out by the GWH's Platform for International Water Law, in partnership with the DiploFoundation and receives the financial support of the Swiss Agency for Development and Cooperation.
Any questions about the application or registration procedures, content and course fees can be addressed to info-waterlawonline@unige.ch

More Information HERE.