Situation
In 2018, out of the 12 Steering Board (SB) Members, 8 are facing the end of mandate.
Two Steering Board Members out of the 8 have decided to end their mandate officially this year at the General Assembly (red in table below) meaning two seats are open for the SB elections:
Jean-Benoit Charrin, Farmstrong Foundation (independent)
Ulrich Steiner, Holinger AG (private)
To succeed the two SB seats, three candidatures have been submitted to the secretariat (profile description below):
Derko Kopitopoulos (Ecopsis)
Roland Metzler (IBG)
Andreas Zysset (EBP)
Further, the following six Steering Board Members, out of the 8 members whose term will finish this year, have expressed their interest to run for another term and will need to be re-elected (blue in table below):
Olga Darazs, CSD Engineers (Private) | Co-Chair of the SWP
Johannes Heeb, Cewas (Private)
Eric Plan, CleantechAlps (Network/Professional Association)
Chris Zurbrügg, Eawag (Research)
Nidal Salim, GIWEH (Non Profit)
Edi Medilanski, SECO (Public)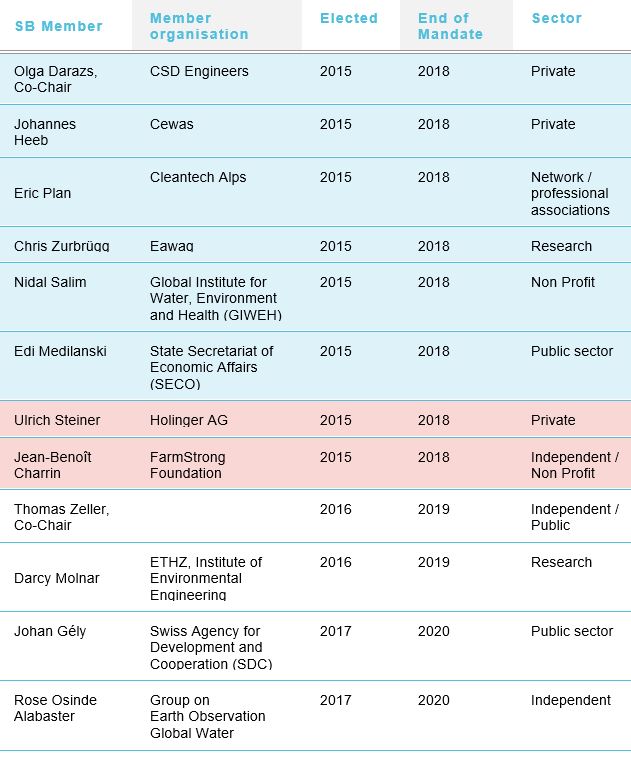 Candidates Profile
The following three candidates are running for election for the two vacant seats in the SWP Steering Board. We therefore ask you to vote for your two favorite candidates online.
Derko Kopitopoulos, Director and Project Consultant | Ecopsis Sa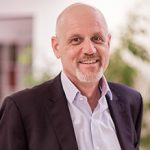 Graduated as a civil engineer (EPFL 1985) Mr Kopitopoulos has been dedicated to the development of the sanitation sector first in Switzerland, then at international level. Founder (1992) and director of the company ECOPSIS S.A., he has had the opportunity to run or participate in many sanitation and wastewater projects around the world. He has contributed to the drafting of national sanitation policies in a dozen of countries. Today, Mr. Kopitopoulos provides consultancy services through ECOPSIS as a senior advisor to national and international donors, regional/local authorities, public utilities and private sector representatives, taking into account the needs, demands and expectations of the final beneficiaries for sustainable sanitation services. More information on www.ecopsis.com.
Mr. Kopitopoulos's statement: "Switzerland has a vibrant and dynamic water sector based on values such as the promotion of dialog, integrity, solidarity – and pragmatism. It is worth sharing! I believe that the SWP provides a unique opportunity to promote "the Swiss approach" internationally and wish to contribute so our "Swiss Voice" get stronger. I also hope to contribute by sharing some of my experience of the private sector and the international markets in the sanitation and water sectors."
Roland Metzler, Director | IBG Ltd.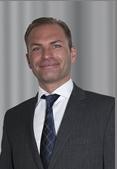 Roland Metzler is the Director of the Engineering Company IBG Ltd. (part of the Holinger Group), which is active in the Water and Wastewater Sector.
Roland Metzler has close to 15 years of experience in international and national projects in the field of Water Supply, Wastewater Treatment, Waste Management, Contaminated Sites and Renewable Energies. He is also well-versed in the following area: Procurement of Equipment, Internationally financed Projects, as well as Finance Engineering.
During his career, Roland Metzler worked with a number of international financial institutions such as the European Bank for Reconstruction and Development (EBRD), the African Development Bank, the Asian Development Bank, the World Bank and the Kreditanstalt für Wiederaufbau (KfW). He also had the opportunity to work with the State Secretariat for Economic Affairs (SECO) and the Swiss Agency for Development and Cooperation (SDC).
Mr. Metzler's statement: "I truly believe that my skills in the development of projects and my ability to handle the different institutions (listed above) would be a great asset to the members of the SWP Steering Board. I will bring my knowledge and various skills to contribute to the SWP and promote its values and projects. I believe that my positive personality will allow me to integrate the team smoothly. My profile will hopefully complete and nicely fit the already diverse profiles of the actual board."
Andreas Zysset, Director of the Environment and Water Division | EBP Schweiz AG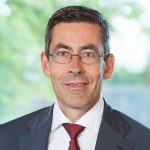 Dr. Andreas ZYSSET, director of the Environment and Water Division at EBP Schweiz AG, member of its executive board and partner, is an engineer (PhD) and a trained diplomat, with supplementary training in financial planning and accounting. Through many different institutional and technical projects in Switzerland, Eastern Europe, Asia, Latin America and Africa, Mr. Zysset gained a profound insight into the institutional and regulatory framework of the water sector in different countries, their service levels and shortcomings.
In Switzerland, Mr. Zysset advises the federal authorities on possible future institutional models and value-added improvements in the water sector, including climate change adaptation, use of water resources in extraordinary circumstances, and on federal and cantonal roles and responsibilities in flood control management.
Mr. Zysset's statement: "The Swiss Water Partnership (SWP) offers a unique platform, bringing together Swiss actors in the international water sector from all domains. Should I get elected as member of the Steering Board, together with my colleagues I will endeavor to foster joint initiatives of SWP members, making its shared values (solidarity and integrity) for water tangible."
Vote for the Steering Board Members here!
More Information: Steering Board Elections 2018 Procedure and Candidates