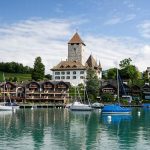 The 137th meeting of the AGUASAN Community of Practice (CoP) will be jointly held with the AGUASAN Workshop 2018 on Tuesday, June 26th on the topic of "Leveraging the data revolution – informed decision-making for better water and sanitation management".
This is an exclusive opportunity for Swiss-based water and sanitation professionals to get to know the AGUASAN CoP and at the same time take part in day 2 of the AGUASAN Workshop and benefit from practical insight presentations, a panel discussion, market place and lots of networking opportunities with 60+ water and sanitation experts from all over the world.
Please find more information on the venue, program and participants in the documents hereafter:
If you wish to sign up, please write an email to Roger Schmid (roger.schmid@skat.ch).