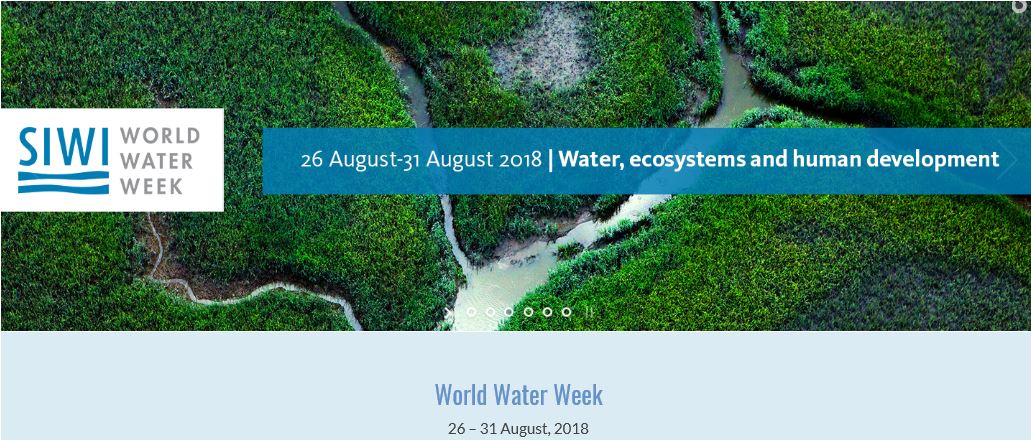 The Swiss Water Partnership has the pleasure to announce that the following two event proposals have been accepted for the Stockholm World Water Week 2018!
Session 1:
"Nature-based Solutions for Water: A sustainable & efficient approach to disaster risk reduction"
About the event: Throughout the world, conventional responses to growing demands for water and food have generally been the investment in engineered or "grey" infrastructure. However, these measures and their maintenance are costly and often lack sustainability. In the context of disaster-prone environments, Nature-based solutions for Water (NbSW) allow us to address root causes, and reduce the risks of disasters.
Based on concrete case studies in Switzerland and abroad, the event will explore different components for successful implementation of Nature-based Solutions for Water:
Institutional and financial aspects: in many contexts a strong political will has been translated into legal and institutional aspects allowing an enabling environment for NbSW including joint funding mechanisms.
The organizational issue: NbSW rely on the consultation and engagement of many different stakeholders, "leaving no-one behind. Consultation tools and communication mechanisms, including human rights based approaches, are essential from design to implementation.
Capacity Building and behavioural changes: as the focus has long been on grey infrastructures, capacity building and empowerment are required to facilitate changes in mind set.
Effectiveness: measuring effectiveness of NbSW is key to allow long-term investments and raise awareness. Measuring human rights sensitive social and environmental impacts is also crucial although still challenging.
Participating SWP Members:
Direction Générale de l'Eau de Genève (DGEau)
Caritas Switzerland
Helvetas Swiss Intercooperation
CSD Engineers
WaterLex
ETHZ (tbc)
Session 2:
"Addressing Challenges to Unlock Financing of Nature-based Solutions for Water"
Market mechanisms for Nature-based Solution for Water (NbSW) include public subsidies, user-driven watershed investments, water quality trading and offsets, environmental water markets (Bennett & Ruef 2016). Current investment trends show growing public and private investments in NbWS however much remains to be done to achieve the scaling-up of these investments.
How can practitioners address the challenges refraining the financing of Nature-based Solutions for Water?
This event will explore the following selected challenges:
Regulatory environment and incentives for public and private investments: learnings from investments in watersheds services allow highlighting the institutional and legal triggers and gaps in order to better design and implement NbSW.
Capacity gap for finance design and overall implementation: all along the fund flow, capacities are lacking to structure the investments (pipeline development, project partnering, stakeholders' consultation and engagement).
Making the business case from a corporate perspective: analysing how corporates currently invest in NbSW helps understanding their bottlenecks for upscaling. In addition innovative financing through the use of blended finance (e.g. corporate engagement to derisk commercial investments) is one option to increase the overall funding.
Value and measure of social and environmental co-benefits: there are trade-offs between economic return/commercial objectives and social and environmental impacts. Reaching an agreed balance is a challenge.
Participating SWP Members:
South Pole Group
Helvetas Switzerland Intercooperation
Swiss Development Cooperation (SDC)
WWF Switzerland and/or IUCN (tbc)
Moreover, the SWP is oragnizing a Swiss event and field visit on Nature Based Solutions for Water in Geneva in Autumn.
If you as SWP member are interested in joining the working group on Nature Based Solutions and / or would like to participate in on of the events (in Stockholm or in Switzerland), do not hesitate to contact the SWP Secretariat.