This visit took place within the framework of the SWP's efforts to develop partnerships with major actors and create the ground for cross-sectors projects. The SWP, following an invitation by the ETH Zurich, participated in the Ciliwung River Project Conference as a panellist in Jakarta on October 8. The Conference aimed at presenting the results of the ETH research project and raising interest among donors and other actors to pursue the Ciliwung River Project (from research to implementation). This was an excellent opportunity for the SWP to start assessing the potential for the SWP members to get involved in cross-sector projects in the region.
The ETH Ciliwung River Project resulted in a model integrating environmental engineering, landscape architecture and ecological assessment. The project results highlight the potential of river rehabilitation by demonstrating that a 'green' river corridor maximises the benefits of ecosystem services. The model helps assess the impact of different parameters such as land use management and channel width on the frequency of flood events and groundwater re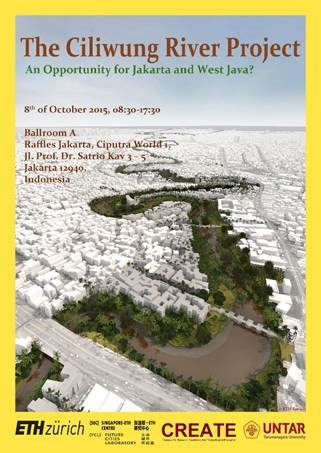 charge. An important focus was on identifying priorities with regard to the ecosystem services (e.g. a riverside park providing recreational value in addition to buffering capacity) that the river and its catchment can provide. In particular, the dynamic visualisation (landscape design solutions) supports dialogue with the public on the effects of different scenarios.
Based on the preliminary assessment, the potential in terms of niche for SWP expertise and funding opportunities is rather positive. Still the question remains whether local actors would be ready for a paradigm shift (from channelling towards river rehabilitation). We will further deepen this assessment in the coming months and come back to you with more information.